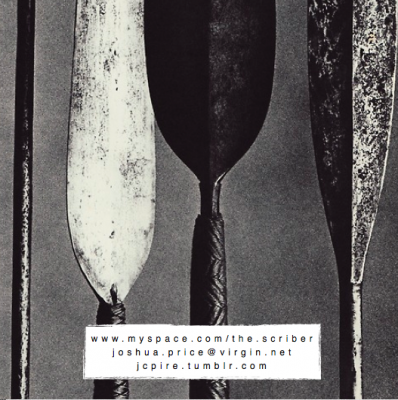 Cardiff-based Joshua Price, aka Scriber, calls his music garage-folk and thinks this is his year.  The panel checked in to see if he's right…
---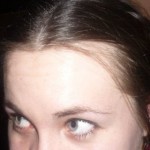 Alice Sage: A slowly plodding pick-strum pick-strum guitar, occasional plinks of piano and an echoing, slurring, soft voice typifies his sound.  The lyrics (when audible) are a dark-edged kind of wistful. He claims to be influenced by some good people – including Tom Waits – but although there is a sad, dark feeling to his gentle downbeat chords, it's the obscured-by-static rumbling voice that ties him more closely to early Leonard Cohen, in my opinion.  Instrumentally he may be a little too simplistic to bear for a whole album – although odd drums, ghostly 'oohs' and loose, changeable timings break up the tracks occasionally.  Mountain Man is the newest and most cleanly produced track – and probably my favourite.
---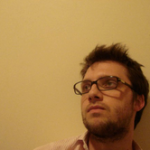 James Robinson: The signs aren't good on first visit to Sciber's MySpace page. There's poetry to be found there, for a start, as well as a few moody illustrations and, most worryingly, a picture of the singer in a baseball cap. The tracks are mournful and delivered in an alarmingly deep voice, a bit like Thom Yorke's but with better enunciation. It should be irritating but actually it's brilliant. This is authentically offbeat maudlin melody-making; country-infused, atmospheric and sinister – the aural equivalent of a David Lynch movie. When Mountain Man stopped abruptly for an interlude of apocalyptic noise I knew I was dealing with some sort of genius.
---

Scott Edgar: Scriber cites both Johnny Flynn and Jay Jay Pistolet as influnces and I instantly fear he may be a little hipster kid jumping on the alt-folk bandwagon. Then I do what many music fans forget to do and actually forget about image and marketing and get the tunes turned up loud. Mountain Man is a delight. There are clear nods to the aforementioned English troubadours but midway through there's a breakdown where this guy shows he's not afraid to take a chance with a song and throw some lo-fi sonics into the mix. I'm not sure if it works as well as I'd like it to but kudos for keeping the listener engaged right to the end.
Listen to Scriber for yourself here