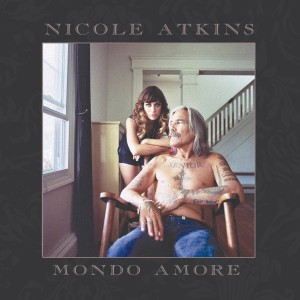 Nicole Atkins has one of the most incredible voices of any artist recording right now. She channels the spirit of Judy Garland, Roy Orbison and Edith Piaf. Her haunting tones were central to the sweeping, cinematic tracks of 2007 debut Neptune City, a fantastic but sadly underappreciated album. Since then she has left her original record label, altered her band and apparently recorded 38 new songs, ten of which appear on Mondo Amore, the belated follow up.
In interviews Atkins has described the new album as a 'break-up record', referring as much to the strained relations with Columbia as any romantic endeavours. Clearly she was doing much of the breaking: this is an impressively defiant collection. Every track has a great swagger, which is reflected in an increased emphasis on a grungier, more guitar-oriented sound. 'My Baby Don't Lie' in particular is authentically barn-storming, with fuzzed slide guitar and distorted vocals. Likewise, 'Cry Cry Cry' features funky, all-American riffs and electric piano that echo, in sound and sentiment, Janis Joplin when she was with Big Brother and the Holding Company. The new approach only really misfires during 'Come to Me', which overdoes the bombast, drowning everything in screeching guitars, messy drums and yelling. It all sounds a bit like Meat Loaf, which is never to be encouraged.
Elsewhere, the tracks demonstrate the anthemic quality that was so much a feature of Neptune City. 'Hotel Plaster', for instance, moves from minimalist piano-and-vocals to full-blown power ballad with elegance while 'War is Hell' is a beautiful, elegiac lament that piles on the retro strings and echo-laden vocals to great effect. It should be the next Bond theme.
Then there is the epic closer, 'The Tower', an exhilarating combination of both styles; it sounds like Dusty Springfield singing lead on the Beatles' 'I Want You (She's So Heavy)'. It's as brash and loud as 'Come to Me', but with a fervour that doesn't feel at all self-conscious. It captivates the listener with the strength of its own intensity, the portentous backing matched by agreeably overwrought lyrics that bypass the brain and deliver a sucker-punch right in the gut.
As a title like Mondo Amore suggests, Nicole Atkins makes music for romantics, and in many ways this reappearance after such a long absence is like an unexpected visit from a lost lover. The time together is intense, sometimes frustrating and, in the end, over far too quickly. What a voice though, for that we should forgive her anything.
Words: James Robinson