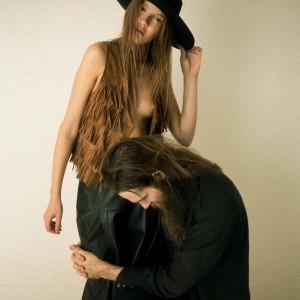 Ten years on from his work with Texan psych-rockers Lift to Experience, Josh T. Pearson is a broken man, and Last of the Country Gentlemen is a sparse, delicate and unrelenting trawl through the darker recesses of the soul. Confessional odes to liquor and sadness won't win you any prizes for originality, but the hordes of the heartsick will always hold this music close and, when it is as well-executed as this, there are few experiences quite as compelling.
Accompanied by barely-there guitar and occasional violin, Pearson's voice, and the emotion it packs, is the star here. The quivering treble dropping through the octaves on 'Thou Art Loosed' is one such example, turning falsetto longing into rasping bite to escort the ironic snarl of "I'm off to save the world". Despite the almost jaunty, seafront postcard of a title, 'Honeymoon's Great! Wish You Were Her' is an unflinching 13-minute tale of the pain of loving the wrong woman. It is not the only song that tops out at over 10 minutes but, in spite of the length, Pearson's ability to draw out and explore every nuance of emotion mean that the album never drags. Indeed, this is a special piece of work, one you feel that you could live inside, one that draws you in, to the extent that when you emerge from listening to it, winched in from the deep, the real world feels like an unwelcome intrusion.
Where Lift to Experience owed much to British acts like My Bloody Valentine, Last of the Country Gentlemen is a thoroughly American affair. Jeff Buckley, Gram Parsons and George Jones are the lofty references here, among which, it should be noted, Josh T. Pearson deservedly sits. Last of the Country Gentlemen is, much like the land which spawned its creator, brutal and intriguing, sprawling and sad.
Words: Rich Furlong