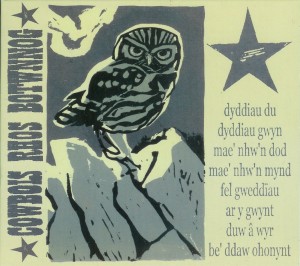 Cowbois Rhos Botwnnog are a three-piece band of brothers who, so they tell us, were given their name by their headmaster at primary school. Rhos Botwnnog is a tiny piece of land just north of the village of Botwnnog in the Llyn Peninsula in north Wales where the band come from and it apparently resembles an American prairie. Which means, for those not fluent in Welsh, the name translates as The Rhos Botwnnog Cowboys.
Dyddiau Du, Dyddiau Gwyn is their second album and, as with their other music, it's written and recorded in Welsh. Listening to an album without being able to understand the lyrics can make for an interesting experience. The words are often what connect the listener to a song initially and as I don't speak Welsh I was concerned about being able to review these tracks justly. However without the lyrics and their meaning to cling to. The melodies and instrumentation of the songs quickly come to the fore.
So it is with Dyddia Du, Dyddiau Gwyn. As the band's name (in either language) suggests, they are heavily influenced by country, folk, Americana and surf sounds. The Cowboys make great use of a wide range of instruments on this album. A pedal steel guitar is present from opening track 'Y Ffenest' to the finish, bringing a laid-back quality to the album. Second track 'Malu'r Ffenestri' begins with a slightly unexpected but brilliant bluesy jazz piano line; piano is very much a part of Americana music but perhaps gets forgotten in favour of the banjo at the moment.
Title track 'Dyddiau Du, Dyddiau Gwyn' opens with a mouth organ and is the most upbeat, friendly track on the album, sounding like something of a hoe down. The country influence comes to the forefront in this song and also on 'Os Ti'n Dod Noi', which is the kind of ballad you would expect to have cowboys in its video. But they can shift the mood too, as they do on 'Gan Fy Mod', which shares the same sound but brings a spare accompaniment early on before building to an anthemic crescendo. Lead singer Iwan Hughes' vocals are effortlessly good here and throughout 'Dyddiau Du, Dyddiau Gwyn'. All three brothers have a rich tone to their voices and Iwan's vocal has the right amount of rough not trying too hard mixed with smoothness. Perhaps being brothers helps as the band seem to harmonise particularly well and that is especially noticeable on 'Ffarwel I Langyfelach Lon'.
The album closes with a very short and simple lullaby of a song entitled 'Ll'gada Gleison', a calming way to finish a musically and instrumentally rich album. Of course understanding the lyrics to a greater extent would enhance these songs, but in some ways the mystery of not knowing the words or their meanings is just as fascinating.
Words: Kim Deadman