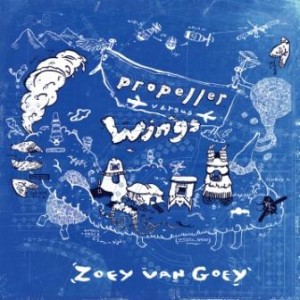 Belatedly, completely and a little surprisingly, I have fallen for Zoey Van Goey.
It hasn't always been this way, but then the course of true love never did run smooth. Our first meeting came after an encounter on a website (this website in fact). Zoey sounded so intriguing, I had to find out more – but after debut album The Cage Was Unlocked All Along, there didn't seem to be much of a future for us. We got on okay, I just didn't feel that spark.
I imagined Zoey and I would go our separate ways and likely never see each other again, until it happened we were both at the Belle & Sebastian-curated ATP festival, Bowlie II, last December. Zoey were the last band to play that weekend. They performed right after a Beatles tribute act and from the moment drummer Matt Brennan walked on stage and quipped: "Wow, they're a tough act to follow. Their tunes are really good," the crowd were on their side. And from the moment they unleashed a killer set of songs from their new album, I was smitten.
Propeller Versus Wings is a huge leap forward for ZVG. What's strange is that beyond the acquisition of a full-time bassist in Adam Scott, not a massive amount has changed. All they've really done is gone and got better. Much better.
So how to describe Zoey Van Goey? They're not your average indie four-piece. Seeing them on stage together, hailing from all corners of the globe and ranging in style from geek to hippy to uber-chic, it's hard to believe they ever even met let alone formed a band. But form a band they did or, perhaps more accurately, two bands, or three, or more, such are the varying styles they employ. Broadly, though, their tunes can be split into two categories: the straight songs, voiced by Kim Moore, and the weird ones, fronted by Brennan.
Moore is once again to the fore. Her vocals skim across tender opener Mountain On Fire like white horses on waves, then light up the old-fashioned gentle jazz of My Aviator with rich honeyed warmth. What's wonderful about Propeller Versus Wings is that it contains a selection of songs which, from the offbeat balladry of Sackville Sun to more angular efforts like Another Day Another Disaster, allow her to show off a voice which is truly worth listening to. Her, and possibly the band's, finest hour comes on Escape Maps, a piano-led lovelorn gem which spills over with emotion.
Meanwhile, Brennan's songwriting has matured immeasurably. The Canadian, whose stage chat, incidentally, is funnier than any number of comedians I could mention, likes to find a circuitous route into a love song. But whereas We All Hide In The Basements from the debut record felt forced and clumsy, here You Told The Drunks I Knew Karate is a triumph. Brennan voices the tale of a man doing increasingly crazy things for love ("I almost broke my collarbone, I didn't care you were the most exciting thing I'd ever known") which is heartfelt, uplifting and genuinely funny.
There are odd moments which grate: single The Cake And Eating It does not show the album in its best light, while the lyrics at times can feel like they're trying a little too hard to be clever, but there's so much variety and sheer quality here, it seems churlish to complain.
In fact, I think this could be the start of a beautiful friendship.
Words: Ali Mason