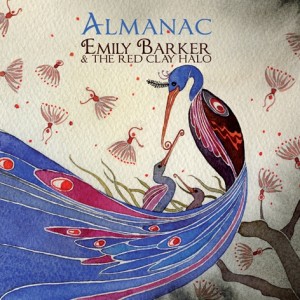 Almanac, Emily Barker's third album, sees her once again working with her backing band The Red Clay Halo. Despite award wins in her native Australia and even a BAFTA and Royal Television Society award for composing the theme to critically acclaimed Swedish crime drama Wallander, she is still something of a secret that the mainstream has yet to discover. Of course, Scandinavian police work is a whole world away from the music she does, which has seen her acquiring a loyal fanbase.
Instead, history is something that dominates the stories that she tells. Songs like Witch of Pitteweem look to the witch trials in Pitteweem that took place in the eighteenth century and Bones portrays the rather disturbing chapter when indigenous people in her native Australia were abused in the same time period. They are told with the right level of respect; in the case of the former it's a dramatic sea-shanty style tune whilst the latter is more sorrowful, anchored by violins.
When she's at her most experimental, she is at her most captivating. The centrepiece of the record is Pause, an eerie song powered by an organ and swirling backing vocals whilst distant electric guitar strums are occasionally brought in, giving it an otherworldly feel. It's the most adventurous piece of music here and it works magnificently.
After this it's straight back to the up-tempo. Openings adds a touch (not a lot, but enough needed) of flamboyance to her sound and Calendar is the best Decemberists song that wasn't written by The Decemberists, given that its soaring chorus is very reminiscent of the Portland quintet's latest record. Songs like these show that there is some pop sensibility in what Barker does and it'll be interesting to see how that grows on future releases.
Almanac will certainly please the folk aficionados. Arrangements owe a lot to traditional forms of the genre and it's absolutely ridden with tales. Whether or not this will find a place in the mainstream is unknown but largely doubtful. It's a shame because there is some really nice stuff on here that showcase some excellent songwriting abilities.
Words: Max Raymond