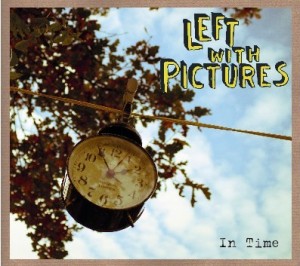 When Beyond Our Means, the debut album from Left With Pictures, was released in late 2009, the critical consensus seemed to be that the band did nothing extraordinary, but did it bloody well. Perhaps the London-based fivesome took that as a challenge, because not much is ordinary about In Time.
In 2010, Left With Pictures wrote, recorded and produced a song every month, complete with video. Each got its debut on Gideon Coe's 6 Music show and each, almost without exception, was a mini-masterpiece. That was their In Time project, which now gets its release in album form.
At first glance not much has changed since their debut effort – 12 shiny chamber pop songs which draw on the band's classical training and will have you singing along before you even know the words. But there's an impressive widening of scope here, whether that be in the a capella of 'October Waits' or closing track 'Forgive Me', which begins in standard Christmas territory and ends as an eerie fairground waltz. Perhaps most remarkable is 'June', a jaunty pop song which flits between 7/4 and 4/4 time. Just listening to it is a head-spinning experience – the thought of having to play along with is positively queasy.
These three are fronted by the nominally second-string singer Toby Knowles, who has a more prominent role this time around. He doesn't have a voice with the natural beauty of that of frontman Stuart Barter, but it oozes with character and individuality. It's probably not too much of a stretch to say those descriptions carry over to the pair's songwriting too. And while Knowles provides several of the album's highlights with his innovation, it is Barter who produces the crowning glory in River Avon, a tale of nostalgia and thwarted young love so heartbreakingly delicate you hesitate to listen to it too often for fear it may break.
Perhaps inevitably there are some missteps, but surprisingly few given the nature of the project. So high are the highlights that melodies other bands would kill for end up seeming almost pedestrian, but songs like Stuck In Time and in particular St Dominic are wonderfully crafted songs in their own right. It might take a few listens before, creepingly, you realise just how good they are. Ultimately it's an achievement that any band working in such a piecemeal fashion could produce so coherent an album. That Left With Pictures achieve it with style and beauty is a thing to cherish.
Words: Ali Mason