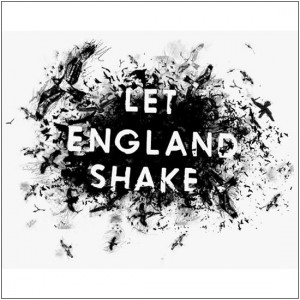 'Let England Shake', commands the title track of this, Polly Harvey's latest studio album. And after just one listen, I can confirm that this small corner of the West Country is very shaky indeed. The excitement isn't just a hangover from the anticipation, but the result of extraordinarily high expectations having been exceeded. It's a true gem.
Though Polly has once again turned to familiar collaborators John Parish and Mick Harvey to make the record, what they've produced here is less familiar in terms of theme. Rather than the more introspective, personal offerings we've come to expect, Let England Shake journeys much further through space, place and time to explore the issues of the moment: nation and belonging.
As well as noticeable differences in theme, there are changes in instrumentation. Polly's old friends the autoharp and guitar meet brassy (literally) new friends – the saxophone on 'The Last Living Rose', the trombone on 'In the Dark Places', and the bugle on 'The Glorious Land'. Yes, you did read it right; it says bugle. And yes, you read right again, it is a glorious song, crammed with toe-tapping, textured and up-tempo melodies that barely disguise the darkness of the words. "What is the glorious fruit of our land?" asks Polly, "its fruit is deformed children" comes the choral response.
So the pattern continues throughout the album – up-beat brass and handclaps are coupled with sinister lyrics, from descriptions of soldiers falling "like lumps of meat" on 'The Words That Maketh Murder', to the "unburied ghosts" of 'Hanging in the Wire'. Later, on the closing track, 'The Colour of the Earth', cheerful tambourines do battle with "a pile of bones" and dirt "the colour of blood". Whether or not you find yourself musing over myth, memory and identity often, the way this tension plays out from the record's start to its finish makes Let England Shake a thrilling listen.
Words: Joanna Legg