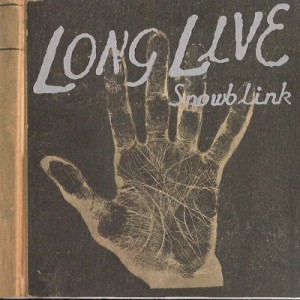 Snowblink's Long Live is a threatening album.  That is to say, this completely superb album threatens to surprise the listener with unexpected and appropriate moments.  It is clear from the beginning — a track called 'Rut and Nuzzle' — that Daniela Gesundheit is ready and willing to sing the listener an octave or two above the cloud-line and into weightlessness.  Snowblink's superior sense of rhythm — first truly disclosed on 'Ambergris' — ensures that the album moves along at such a clip that the band remains one step ahead of the listener.  The instrumentation is not overly ornate, but sufficiently intricate to be engaging for the duration of the album.  I will be listening to Long Live often in the coming months.
Some of the most purely satisfying songs are like 'Membrillo,' which is nothing more than a jubilant choral arrangement with no lyrics.  This song also is quite telling of a balance between anticipation and relief that is struck throughout the album.  Swells, shifts, and interludes yield to moments of resolution, but moments that can be used as springboards to the next thought.
The lyrics are pleasing glimpses that can be clearly understood, but, again, leave the listener with the sense that there is something yet to come.  An example from 'Ambergris' is "Rebecca they sent us twin red headed boys/ so lets dress them all their days in turquoise".
Although Snowblink's Long Live is being released in autumn, it gives the listener a deep feeling of spring.  The progression of the album even mimics the emotions of the season—initial giddiness, and then the sense of real, hearty growth.  By the end, summer is just over the horizon.  I've only listened to the album a few times and I already want to listen again, and even more, learn what comes next for Snowblink.
Words: Pablo Quesada