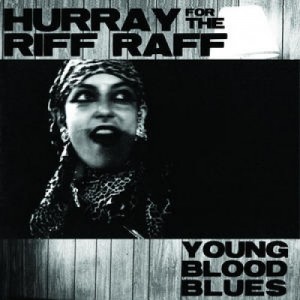 New Orleans is an evocative city. It's the home of jazz and the delta blues, a city steeped in musical history and prestige. But alongside these more positive facets, drama is never far around the corner – this is the birthplace of Lee Harvey Oswald and the terrible destruction left in the wake of Hurricanes Katrina and Rita is still resonant. It seems fitting then that this three-piece outfit tap into the rich vein of history of their hometown on their debut album, a whirlwind tumble of traditional folk instrumentation and a distinctly modern sense of the dramatic.
The conduit for this comes in the form of singer Alynda Lee Segarra, who possesses the kind of undulating, expressive voice beloved by fans of Regina Spektor or Cold War Kids – undeniably an asset that the band understandably capitalise on. Unfortunately, the vocals act as a central point throughout the album, somewhat relegating the music to mere background fare. This is the major letdown of an album that clearly has a lot of talent behind it; as the vocals dominate and the less you care about the instruments, it becomes music that simply trades on its history, rather than dwells within it. The bombast of opener 'Is That You?' never rings quite true, and that feeling remains more or less throughout.
In fact, the best moments come when Segarra reins in the dynamics of her voice and the music complements her far better. 'I Know You' is a sparse lament backed by only banjo and a distant, mournful trumpet and benefits from it. Hurray for the Riff Raff are a band clearly not lacking in gifts, but perhaps it's that young blood of the album's title that's made them show what they can do, rather than what they perhaps should, and it's as they close the album with 'Sali's Song' that this becomes clear. With its hissy production and gospel-inspired lyrics, the band finally break through the barrier of homage into something more real. This sounds like it comes from New Orleans.
Words: Joe Skrebels