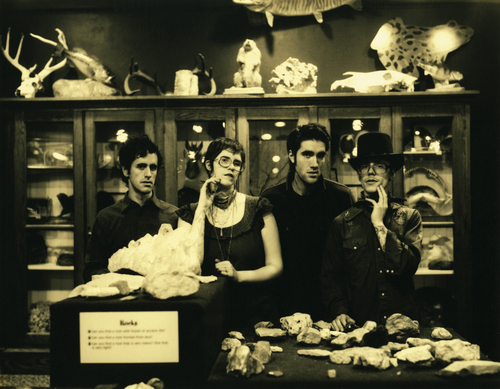 I love love love Dark Dark Dark. Anika sent me the link to this video a little while ago and I've not stopped listening to their Myspace since.
They're a six piece from Minneapolis and have done a couple of Daytrotter sessions – listen here and here. But best of all I think is the lovely piano and voice version of Elephant Micah song, Wild Goose Chase. Have a little look below.
Dark Dark Dark are on tour in Europe this month.
07/11/10 Video, Bruges. Belgium
08/11/10 TBA. Holland
09/11/10 Paradiso, Amsterdam. Holland
10/11/10 Glazart, Paris. France
11/11/10 Le Petit Faucheux, Tours. France
14/11/10 MJC Anitpode, Rennes. France
16/11/10 TBA, Toulouse. France
19/11/10 Ebullition, Bulle. Switzerland
23/11/10 Cluny, Newcastle. UK
24/11/10 The Malt Cross, Nottingham. UK
25/11/10 Southill Park, Bracknell. UK
26/11/10 Brighton, Latest Music Bar. UK
27/11/10 TBA, France
28/11/10 Phoenix, Exeter. UK
29/11/10 Louisiana, Bristol. UK
30/11/10 Lexington, London. UK
01/12/10 Noriwch Arts Centre, Norwich. UK
Nona Marie Invie from Dark Dark Dark – Wild Goose Chase