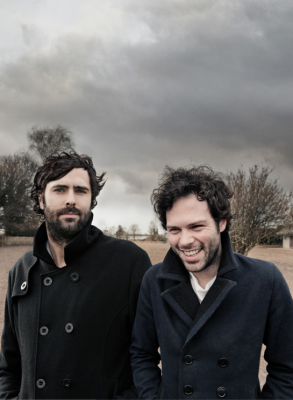 England has had folk pretty much down to a pat for some while now. In fact, the last few years has seen the English folk scene go from strength to strength – developing its own distinct sound, breaking the mainstream and winning the nation over with hope and ukeleles. The English have added folk to their list of 'Things We Can Do Very Well' alongside breakfasts, tea and grumbling.
We've had less success, however, with country. Possibly as a result of never really trying, there has until this point been no successful country artists stemming from the shores of this fair land. And so, when Mt. Desolation took to the stage last night at the Scala, opening with a deceptively quiet number of harmonies and guitars the crowd was taken a little by surprise. And then minutes later, when the band launched into a song that can only be described as a right country rumpus, surprise came once more, taking us this time in a much more violent but really rather enjoyable sort of way.
Described all too often as Tim Rice-Oxley from Keane's side-project, Mt. Desolation are better viewed as the results of a man with an innate understanding of melody and lyrics (Rice-Oxley writes the majority of Keane's output) and transferring them to a genre he can truly associate himself with. Formed in a Dublin pub, Mt. Desolation have the back-story of two mates having a little fun. And perhaps that's all it was, once. But as the band storm from an all-too-short set that holds the audience close despite, as Rice-Oxley puts it, "these all being new songs you don't know", two things become clear. First, that the band have brought together something really special here – something new, and exciting and as yet unencroached upon within the country's music scene and second, that Mt. Desolation are no longer two mates having a little fun. Now – now they're having a lot of fun. The band understands the secret to good music is variety, and the set jumps about from slow ballads, gentle country duets and wistful moments to all out rock & roll, electric and wild – as much Chuck Berry as it is Chuck Cannon. At these moments the world is drawn in, entirely, to the Scala, and nothing exists beyond these walls, and these people, and this music – alive, and exciting and more than anything else fun.
Rice-Oxley's voice is surprising – much stronger and richer than one might expect from a songwriter who has so far donated all his lyrics to another singer – but it works perfectly alongside the gentler vocals of his counterpart Jesse Quin. All that is left of the Keane persona is his always lively piano-playing, rocking out on the keys as much as anyone has ever managed on a guitar. The smiles say it all, the whole band in love with the music and in love with the moment. Mid-way through the set a member of the crowd calls out "Keane who?" and the room quietly laughs to itself. "Steady…" replies Rice-Oxley, with a cheeky grin on his face that asks the question again itself. The answer to that one might not be here tonight, but with their music and sound so formed and so fun, the answer to another question might just be. What's next for English music?