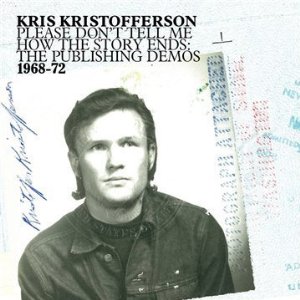 Please don't tell me how the story ends is a collection of Kris Kristofferson's early recordings and demo's. Kristofferson is clearly a charismatic man who seems to have lived many lives. In his time he has been a pilot and an actor but it seems he has always been a singer songwriter.
Some of the songs featured on this collection went on to be performed by others, including his friend and hero Johnny Cash and one time girlfriend Janis Joplin- but here they are all performed by Kris.
The recordings are raw and there is no doubt that in some places that is also true of some of the singing and playing. Some of the tracks are interrupted by the musicians stopping to speak or re group and the album offers you the opportunity to listen in on the process of creating and rehearsing- and in that respect in places is more like a live album than a normal recording.
Please don't tell me how the story ends is most interesting as a collection, as a story of how songs are made and evolve as they are practised and performed. There are some tracks that particularly stand out though including the title song and 'Me and Bobby McGhee'.
The album is probably aimed at Kristofferson fans but is an enjoyable and interesting listen for anyone who likes traditional, soulful, classic country music.
Words: Kim Deadman