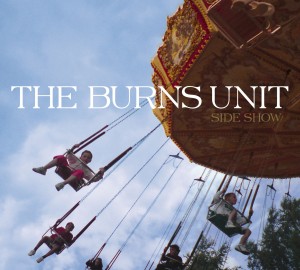 'Supergroup' is one of those terms that gets thrown out there all the time. Two or three folks get together from different bands for a side project, and suddenly its a supergroup.
Except usually it's not. Usually it's not nearly as good as what they do in their day jobs (we're looking at your James Mercer – just make another Shins LP already). But while they may not be a supergroup in the heavyweight mould of a Crosby, Stills, Nash & Young, the Burns Unit justify the name.
Eight artists from Scotland and Canada have come together to form something genuinely bigger than the sum of its parts. It's far from an obvious combination of talents. From award-winning Scottish folkster Karine Polwart to the ever-prolific King Creosote to rapper MC Soom T, there's a huge range of talents here, giving the Burns Unit an enviable array of resources, styles and ideas to call on.
And it shows. The name Side Show suggests this album could be just another side project, but it very much feels like the main event. It almost feels like it should be a stage production, the six vocalists combining like different actors to tell a story musically diverse yet entirely coherent.
Since We've Fallen Out is the slow-burning opener, but it soon gives way to the upbeat pop of Trouble, before Soom T brings her trademarks political lyrics to the fore on Send Them Kinds To War. The album continues through rock, synth-pop and even bits of cabaret before hitting its high point in the driving Majesty of Decay.
You can hear how much fun these eight artists are having working together, and we can only hope this is more than a one-off before they go back to their solo careers.