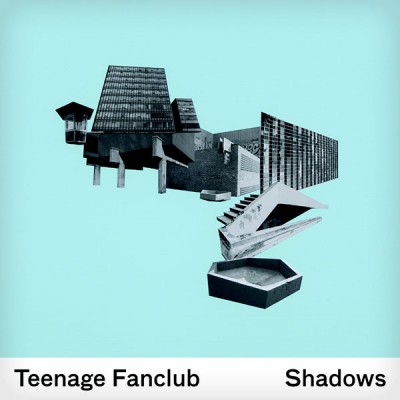 In some ways reviewing this album feels a bit superfluous; fraudulent, even. If the point of a review is to convey what an album sounds like, I can sum it up in a five-word sentence: it sounds like Teenage Fanclub.
John Peel famously described The Fall as being "always different, always the same." You could say the same thing about Teenage Fanclub, except with the first bit removed. Jangly pop, cheerily melodies, wistful Scottish harmonies – much the same elements that were in place on 1991's landmark Bandwagonesque, but with that album's rougher edges gradually eroded smooth by time and the occasional moments of guitar-strangling ferocity omitted. Perhaps they are considered unseemly for a bunch of guys in their mid-40s.
"Heading west towards the glowing evening sunset on an August night/waking up before the mist has fully lifted in the morning light," goes opener 'Sometimes I Don't Need To Believe In Anything,' a swooshing sort of number carried along by Flaming Lips-style string flourishes. Teenage Fanclub albums are littered with these sorts of lyrics, happy descriptions of enchantment with one thing or another; nature, sunsets, Glasgow at the end of a Summer day, new girlfriends.
This is all well and good, but the best pop music manages to convey a sense of something else under the pretty hooks. Brian Wilson sang the words "god only knows what I'd do without you," expressing naked fear of loneliness, over one of the most beautiful, sugared melodies ever conceived. Kurt Cobain described his approach to song craft as trying to write nursery rhymes. This light – dark tension is the dynamic at the core of all great pop songs.
Teenage Fanclub may understand this, but there are moments on Shadows where the upbeat lyrics are so ubiquitous they start to wear thin. Lines like "there are sweet, sweet days waiting for you" ('Sweet Days Waiting') are so vague they border on meaninglessness. Simplicity in pop music is a great thing, but there is a thin line between using simplicity in a clever way and just being simplistic. Teenage Fanclub walk that line precariously sometimes.
But sometimes well-intentioned inanities are what you need to feel better. In the more emotional troughs we find ourselves – reeling from an angsty breakup, for example – you can find solace even in the most tritely affirmative sentiments. "Dark clouds are following you, but they'll drift away" (from 'Dark Clouds', a wonderful musical cousin of REM's 'Nightswimming') – it's comforting because it's true. The title hints at the purpose of this album; in fact to let us step out of the shadows for its duration.
At heart this is an uncomplicated album which revels in simple pleasures and the twin gifts of nature and companionship. "From the Western Isles to the Tasman Sea/There's a world of men and machinery/But the birds still sing and the sun shines free/I don't need much when I still have thee." It's not clear who that gratuitously-used personal pronoun is addressing; it might be a lover, or perhaps nature itself. On this album Teenage Fanclub seem equally in love with their surroundings as their sweethearts; it all becomes one rather blissful whole.
"I aim for a peaceful life," sings Norman Blake on 'Shock And Awe,' which could very loosely be defined as an anti-war song. It's actually more about finding the scope for reflection and the opportunity for peace in the maelstrom of modern life. They are a rock of consistency in a changing and turbulent world. In that sense it is to all our benefit that Teenage Fanclub is still keeping it simple.