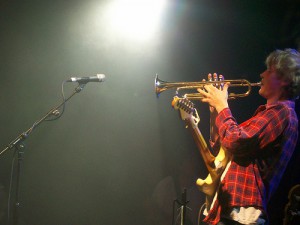 It's no secret that FFS has more than a little love for "the next poster boy of the nu-folk [vom – Ed] scene" (we can thank the Times for that one), and his marvellous new album Been Listening has only increased this affection. Plaid shirts and enviable musical connections aside, Johnny Flynn's music is more than capable of holding its own, and, as this evening is about to teach me, shines brightest when performed live.
Flynn and four members of his band, The Sussex Wit, filter onto the stage and take up their instruments without any distracting ceremony, which is in tune with their unassuming dress code for the evening. As the night progresses, a community atmosphere that can't be escaped seeps from the five friends on stage, and the audience have no qualms about expressing their fondness for Flynn and his songs. Indeed, Johnny reciprocates this fondness when he reveals that the band "were asked if we wanted a barrier between the audience and the stage…of course we don't want a barrier."
In comparison to the recorded album, the songs feel stripped down but not lacking. Substituting different instruments for different parts keeps things interesting without becoming unfamiliar. Keys player James Mathé's fine attempt at singing the female vocals (originally recorded by Laura Marling) on the sublime song 'The Water' is applaudable and much more enjoyable than it really should be, proving to be one of the highlights of the night's set.
A comforting combination of old and new make for a very well received set list. Long-time favourites 'The Box', 'The Wrote and The Writ', 'Brown Trout Blues' and 'Cold Bread' go down predictably successfully, and are interspersed with newcomers 'Barnacled Warship', 'Churlish May', 'Kentucky Pill' and 'Lost and Found', among others. The new songs fit happily with the better-known ones, carrying the same heavy weight of sincerity, and are expressed with a sophistication that places Been Listening as very much the older brother of the debut A Larum. A timely encore of 'Leftovers' goes down a treat, leaving the appreciative audience satisfied as the band exit the stage.