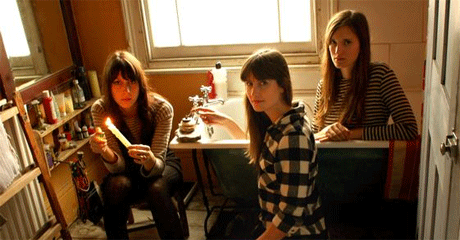 Scala or 'The Scala' as I was recently corrected is not a welcoming venue. The stairs, railings and the DJ cage are all more than a little oppressive. Au Revoir Simone by contrast are in essence a simple trio of girls singing pretty music accompanied by their keyboards and a backing track to provide a drum beat. Emotional lo-fi synth music really needs a cosier venue in my opinion, maybe one with cushions. There is something about the trio that you want to take back to meet your mother, an air of lovely innocence and naivety that echoes throughout their music, leaving you dreaming of lazy days by the river with tea in a thermos and triangular sandwiches.
The three ladies of synth needed a few songs to get into their rhythm, clearly nervous as they took to the stage and thrown off early on by some deafening feedback during 'Take me as I am', whilst Annie was plagued by a loose mic stand that ended up being replaced halfway through the set. Although these hitches did provide a suitable setting for old war stories of iPod backing tracks and shambles past, the trio didn't quite recovered their composure until the finale.
This was a shame because their music is simple and simply beautiful. While you could call it prosaic I prefer to think of having Erika Forster, Annie Hart and Heather D'Angelo all providing vocals and keyboard as unobtrusive and free-spirited, making for a truly collaborative sound.  You can imagine the trio taking great joy in the creative process, learning from each other en route to the finished article. For any of you who might find their band name somewhat theatrical or contrived I'd suggest going to the Au Revoir Simone Wikipedia entry to see where the inspiration came from. These girls are genuinely unassuming and clearly love what they do.
The setlist for the evening was in the main assembled from their recent album Still Light, Still Night but they wove in the odd classic and culminated in proving their unpretentiousness with a cover of 'Boys of Summer'.  Not what I expected musically, but a song about the Brooklyn Dodgers being sung by three Brooklynites should need little explanation and was met with enthusiasm from most of the crowd.
With a remix album based on Still Light, Still Night announced last month featuring the likes of Jens Lekman and the Dirty Projectors we can expect to hear a fresh approach to Au Revoir Simones' dreamy vocals in the near future – ensuring we don't miss them too much before they come back to our shores.
Words: Chris Gent