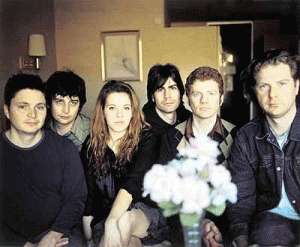 Last Wednesday, the New Pornographers took the stage of a packed Electric Ballroom for the first European date of their summer tour promoting new album Together, freshly released earlier this month. Together is the band's first release since 2007 and the mellower, maybe 'folkier' and more introspective Challengers. This new LP takes the New Pornographers back to the sound that made the Ontario-based super group famous, an electric power pop, like we heard on Twin Cinema (2005), with maybe slightly more Indie rock influences brought into the mix on their latest release.
After support from New Yorkers Here We Go Magic, a psyche-electro-rock that warmed up the crowd rather nicely, The New Pornographers settled on stage, and A.C. Newman's first words were a thank you to Iceland for eventually letting the band fly over from Canada. Opener 'Up In The Dark' would set the mood for an hour and a half set of upbeat, electrified, sometimes loud Indie Pop rock. With an original line up of seven band members, most of them involved in side or solo projects, it's not easy to get everyone for a tour, last Wednesday six of them were on stage (Dan Bejar was absent) but this didn't affect the performance and for a band that haven't toured together for a while the set was impressively tight, demonstrating experience and good stage presence.
The band has a live cohesion on stage that displays a charming unity between its members – the best illustration for an album entitled Together. If the set was a mix of new materials taken from their latest albums and previous releases, the crowd's expectation for older tracks was palpable and songs like 'Challengers' or 'The Laws Have Changed' won the audience's biggest cheers.  When we came to the final encore the band had to respond to popular request and conclude the gig with 'Sing Me Spanish Techno' from 2005's Twin Cinema.
The tour will take the Canadian band onto the roads of Europe and the US for more than sixty dates this summer before returning to the UK in September for the End of the Road festival.
Words: Ludovic Lacolonge