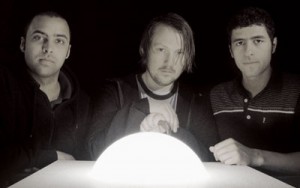 When he's not strumming his guitar and recording solo albums like 'Veneer', José Gonzáles teams up with Elias Araya and Tobias Winterkorn to form Junip, framing his voice with organs, synths and drums.
In the past the band met up periodically, schedules permitting, to release their first 7" in 2000, and an EP in '06 (Black Refuge). Luckily for us the threesome have started focusing more intently on the band and are currently polishing off their debut album, due for release in September.
Currently on tour, the band are stopping in for a quick visit with a show in Borderline, London on the 6th June, providing us with an intimate gig with teaser tracks from the album.