On paper, Brighton's Great Escape is a rather extraordinary proposition. Take three hundred or so up-and-coming artists, sprinkle on a dusting of more established acts and spread them across a hotchpotch of 30 venues. While that's bubbling away nicely, throw together a crack team of industry types to muse over the future of the music industry in a pavilion. Do this for 3 days and 3 nights. It's part festival, part convention, and it's a very big ask. Thankfully, this is no shot in the dark. 2010 marks the 5th coming of Europe's biggest showcase of new music: these guys know how it's really done.  So it was then, that punters and delegates alike swooped upon the coast last week with nought but a map and a pining for the next big thing. I spoke to a delegate on Sunday. He said that the talks and presentations were 'spot on'. Seems fairly conclusive to me. On to the music then. Here are my big 5: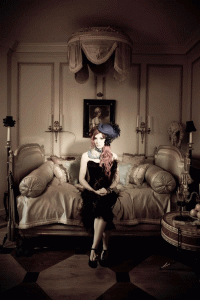 Gabby Young – sans all but one of her animals and plonked in a hotel basement, delivered a performance that befits one on a trajectory to real eminence. What better acid test for a musician used to 8-piece backing and notorious for theatrical flamboyance, than the vulnerability of a single accomplice and utterly mundane setting. Whilst this stripped down guise restricted the range of her output, most notably any foray into jazz quarters, it proved to be a masterstroke in isolating her vocals. For the voice on show is a thing of brooding magnificence, surging from light to dark with striking effortlessness. 'We're all in this together' was the lynchpin – a tender and humble turn drifting over woozy acoustic interplay. Any commentary that flaunts catchall tags of the burlesque, gothic and gypsy ilk does Gabby a real disservice; she is a symbol of complete individuality.
Self-elected royal status is, without doubt, quite a statement. Not surprising then that King Charles is a confident young man. He is also very keen on polar bears. Presented with a seemingly indifferent crowd, he shelved any semblance of indignation and ripped into an audacious quest. A soundscape of astonishing proportions developed, dipping liberally into searing guitar-shred, rap and reggae bounce. His meditations fused a dalliance with wackiness (this is where the polar bears cropped up) with expansive questions of being, spanning love, faith, freedom and apocalypse. The foundation was that of searing tribal power, a life-force swelling with the passing of the set and crushing any frostiness in the ranks. 'Lovelust' and 'Mr. Flick' were anthemic. The playful 'We didn't start the fire' (name checking both Laura Marling and Harold Shipman – probably a first) nigh-on incited a riot. Not content with a mere proverbial roof raising, the King scaled his drum kit and staged an unruly assault on a crash cymbal, his head momentarily ploughing through a ceiling tile. In short, glorious.
Of an occasion, the juxtaposition of sound, sight and mood can flummox a man. So it was at 2.30am at the Duke of York's theatre as 10-piece Sons of Noel and Adrian departed stage right. So this might seem a trifle melodramatic following what was essentially a proficient display of traditional folk and Gaelic songcraft. The willowy close harmonies and rich intricacy of sweeping strings were agreeable. Coupled with this, the triumphant edge to their delivery was positively inspiring. The problem centred on a progressive descent into the morose and awkward. What with the jagged raising of arms, lightening deployment of bows and spiderlike guitar work set against an incessant pounding of feet, the cumulative effect was a bit overwhelming. And borderline spooky. Certainly an intriguing arrow in the folksy quiver but perhaps better enjoyed in smaller doses.
Tip-offs had flown in that Brighton's very own Esben and the Witch were not to be passed-up. A sizeable assemblage of the expectant ensued. As did a red wine on scarf incident. An ominous start. Things were none too clever on stage either. Band members paced back and forth in a distinctly restless sound check. This spilt into an opener rife with frantic sort-our-levels-out-now arm waving and speakers spluttering under strain of intense processed beats. Fortunately, this was largely remedied come track 2 and the trio got down to business. That business being one of shrewdly calculated craftsmanship; growling, reverb-soaked guitars and keys successively layered upon multifarious swirls of percussive electonica and dubstep. The instrumentation was – at times – impossible to isolate, such were the climaxes of grinding and drilling-like rasps. The hooded Rachel Davis played horrorshow storyteller-come-conductor within this expanse, heralding the surge from ebb to flow with driving bangs of her drum. The hordes were wholly transfixed; unsurprising given the scale of intrigue unfolding before them. And of all of this without appearing overly pretentious.
When debate regarding dream festival closers crops up, Angus & Julia Stone's collective hat (ideally of the weather-beaten cowboy strain) should be cast into the ring with some force. Such was the joyous beauty pervading Saturday's climactic set that it recurrently drifted into the otherworldly. Not content with the mastery of songcraft permeating her own work, Julia offered forth a stunning cover of "You're the one I want" at the halfway point, her achingly-soft delivery bettered only by her powers of reinvention. Faced with the very essence of the graveyard shift, Angus then called upon "Just a boy", a melodious trump card that swept him from the jaws of an almighty pickle. The blanket of beaming grins illuminating the room bedecked fanatics, converts and band members alike. Anybody inclined to shun the softer end of the acoustic on account of boredom should be marched down to an A&J show post haste; they shall be transformed.
Words: Robert Lane