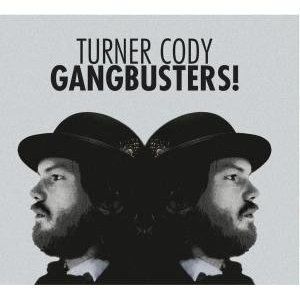 Over the years, Turner Cody hasn't strayed far from the country-twanged folk that characterised his early contribution 'Unconscious Repeat' on the 2002 compilation Antifolk Vol. 1. In the time that Adam Green has gone from painful shrieking clarinets to smooth crooning with a full band via crude nursery rhymes and back again, Turner Cody has merely upped the tempo and perfected his country drawl.
On Gangbusters!, the latest in a long line of Turner Cody albums, the lovely horns courtesy of members of Beirut and a slightly hypnotic rhythm section from Herman Dune build on Cody's musical heritage. They particularly stand out on the late treat 'Nobody Like You'– the addition of a piano and choir welcome on an album quite reliant on the man-plus-guitar format. Equally cheerful and blessed with a lightening female vocal accompaniment, 'Forever Hold' achieves a nice contrast between the sweetly poppy 'ba-ba-ba-ba-bum' and the edgier spoken word sections. 'Jackson Heights' also hits that magical Antifolk formula by being lyrically clever and dark, while melodically rather good fun.
Yet unfortunately, Turner Cody is just not blessed with the lyrical spark of someone like Adam Green, necessary to really make his songs stand out and stick around. 'Big Surprise' is a particular disappointment – it builds itself up to say something rib-ticklingly clever after "I love you like a blind man…", or "I love you like a hobo…", yet the pay-off is ultimately underwhelming.
There are plenty of people spinning a country yarn these days, but thankfully, with the various collaborators bringing something special to this album, and despite lacking the desired lyrical punch, Turner Cody still does it a little bit differently.