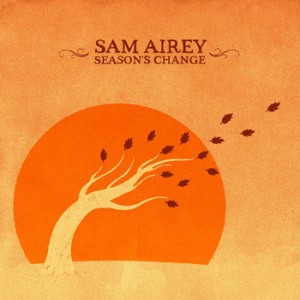 I can't help but think that with Spring finally showing its face, the release of Sam Airey's EP, Season's Change could not be better timed. It's a lovely sunny EP which will be the perfect accompaniment for any Spring time picnic. His vocals are rich and full of wisdom, which leads me to believe he must have a very mature head on his 22 year old shoulders. Originally from Wales and now re-located to Leeds this folk artist draws inspiration from his rural days, his urban days and both old and contemporary folk styles. This mix will no doubt broaden his audience and serve him well with any fan of folk.
His opening track, 'Oh (when it's gone)' contains lots of intricate guitar work smoothed over by gorgeous vocals, a technique used well again on 'Row upon Row'. Moving on to 'Home', violins are introduced for a more traditional folk feel. The standout track, for me, comes next, 'Stars'- I fell in love with it instantly. A stripped down sound moves you with dreamy lyrics and hypnotic repetition of melodies. The addition of a female vocalist on this song really adds emphasis and works to highlight Sam's own vocal skills. 'The Oak Tree' wraps this EP up with some nice build up moments ending in what sounds like a proper hoe-down! Sam finally let's rip and gives the whole thing a live gig quality, sounding like he's invited all his mates on stage to party at the end of the night. A pretty great way to finish an EP!
A lovely selection of songs from a talented young artist and absolutely perfect for this time of year.
Sam Airey plays The Allotment on 9th May with Elena Tonra and Dear Winesburg. Tickets are £5 and available from We Got Tickets.