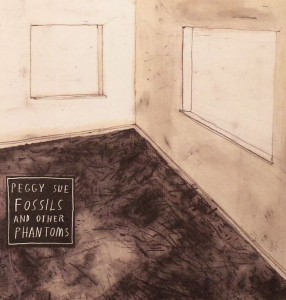 Peggy Sue have concocted a heady mixture of blues, rock and doo-wap leanings within their debut album Fossils and Other Phantoms.
Opener 'Yo Mama' has brilliant impact. The title suggests something whimsical and gaudy, but instead the listener is met with an insightful collection of lyrics partnered with well-structured melodies that encompass the accordion, a particularly catchy percussion section from Olly and, of course, Rosa and Katy's staggeringly gorgeous voices. The song oozes determination in its lyrics which read, "So I went downtown and found myself someone/Without your hair/Without your smell/Without your love". This passionate and honest approach to heartbreak is something Peggy Sue have earned a name for.
Fossils and Other Phantoms is packed full of impassioned songs including the inescapably well-structured 'Watchman'. The song moves through a number of instrumental transitions, beginning with a percussion section including washboards and cymbals and then moving into an acoustic guitar-based part. The best part of 'Watchman' however, has to be the chorus line of, "I only came here to see you see me/I only came here to watch you watch me leave".
The album doesn't always present itself in such a bold light however. Following 'Watchman', 'She Called' reflects the honesty Peggy Sue can so very well express but with gentler melodies and lyrics. An example is "I have a love that will linger until I learn to live without it/I have a love that will linger until I learn to doubt it". The listener is guided to listen to such lines due to the simple musicianship, which comprises of rolling drums and a slow guitar melody, that surrounds Katy and Rosa's voices.
'February Snow' is one of Fossils and Other Phantoms' highlights due to its pace, musicianship and lyrics, which create a fantastic bundle with which you don't quite know where to start. The lyrics are a particular stroke of genius, such lines as the succinctly poignant "It's funny how a name can change over time/From friend/To lover/To once was mine". As with the entirety of the album, percussion has been carefully thought through here and is used to brilliant effect, providing movement and pace within the music.
'The Shape We Made' is a simple but poignant ending to Fossils. Within the 3-minute long song, a lovely story is developed within the ever beautiful lyrics of Peggy Sue. As with 'She Called', the instruments used to compliment the vocals are kept to a minimum, allowing space for Rosa and Katy's voices to grow and strengthen the song.
As a whole, Fossils is a flawlessly contained world all of its own. The well-constructed melodies are perfectly met by the fantastic lyrical precision, meaning that every song makes an impression on the listener somewhere.
Even though it's been a while since Peggy Sue set out with the Pirates, the wait for this album has allowed for artistic development and its remarkable coherance makes it a body of work to be cherished for years to come.
Words: Mary Machin