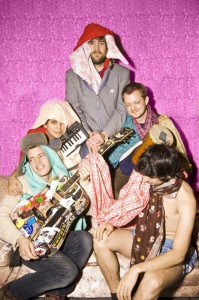 'Supergroup' is such a hideous term, sullied as it has been by a deluge of well-meaning yet utterly annoying charity singles, that it seems crass to use it to describe something as wonderful as The Bundles.
Yet use it we must, for how else can you adequately explain a musical entity comprising ex-Moldy Peaches and Juno songstress Kimya Dawson, Jeffrey Lewis and his amazing brother Jack, drummer for practically everyone Anders Griffen, oh and the talented Karl Blau too, just for good measure.
The Bundles, mostly spawned from the hallowed New York Antifolk community, have been making music on an ad-hoc basis for the best part of a decade, and in 2009 finally got together to properly combine old songs with new. The resulting self-titled album is a lo-fi marvel and was released on K records this March.
The Bundles will be embarking on a suitably frantic tour of the UK in May, with support on all dates coming from Your Heart Breaks (which naturally counts Karl Blau as one of its members). And if that's not enough for you then Anders Griffen will be playing with Diane Cluck at the End of the Road Festival in September.
The Bundles:
15 May – Leeds – Brudenell Social Club
16 May – Glasgow – ABC2
17 May – Manchester – The Deaf Institute
18 May – Bristol – Trinity Arts Centre
19 May – London – Union Chapel
20 May – Brighton – Komedia