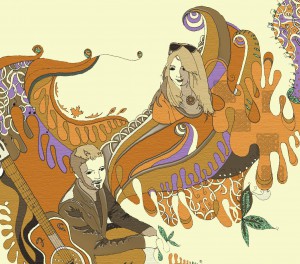 Listening to Last Sleep in Albion you can tell the band has developed, especially in confidence. The production and general sound of the EP has more depth than earlier demos, at the same time keeping a folksy integrity. Opener 'This Fiction' begins with a straightforward rock riff, then some banjo chimes in and great personality emerges from there through the rest of the EP. 'Rush Hour Wind' is a soundtrack to the modern English city, with solo guitar building up to loud layered bridges and great harmonies. The chorus harmonies on most of the songs are emphasised perfectly, sung over spare backing and sandwiched between clicked guitar lines and soft verses.
The EP as a whole has definite connections with their contemporaries in pop-folk – Noah and the Whale, Slow Club, etc. – but is tinged by Americana, and by old British and Irish folk. On 'Girl of the Land,' a sliding background guitar and some call and response instrumentals create a Mid-West tone that overlaps brilliantly with lyrics about beetles and soil. Elsewhere, 'Anchored Down' is a sea shanty reinvented as a modern love song. The simplicity of the guitar and chorus vocals make it the stand out track.
Words: Alice Knapp
We have two signed copies of Adelaide Cape's EP to give away. Comment below or email win [at] forfolkssake [dot] com for a chance to win one. We'll pick names out the had at noon on Monday.