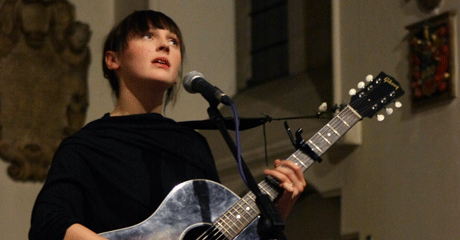 Studio 672, the sold out 220 capacity venue in the centre of Cologne, lended itself to genius for a night; for 65 minutes the German crowd (plus a few token Brits) were treated to the insightful beauty of Laura Marling and her songs on the European leg of the I Speak Because I Can tour, ahead of her UK run of dates.
Despite having Pete Roe in her backing band, warm up support came from Nic Dawson Kelly. Difficult to compare with anyone in particular, he had a distinct style of his own; a strong, gravelly, masculine voice, which at times became extremely soft, as showcased in 'Delicate'. Singing strong, earthy folk, he commanded the audience's attention fully – no mean feat for a support act.
True to traditional form, Laura walked in and immediately began the set with Devil's Spoke, without paying much attention to the audience. A heavy guitar part gave the song even more of an edge that the album recording, instantly raising the mood in the tiny basement room. After going on to play 'Hope In The Air' and Rambling Man' (which featured hypnotically beautiful harmonies between Marling and Roe), the band left Laura alone on stage, whence she began a solo acoustic set of both older songs and those from the new album. Declaring her happiness to be finally playing in Germany as 'Alas I Cannot Swim' was not given a European release, the crowd were very receptive to, and by no means lacking in knowledge of, her debut work. As the opening noted of 'Ghosts' were gently strummed, the whole audience drew their breath; a special moment indeed.
Being my 5th Laura Marling gig, I was ecstatic to finally hear the legendary 'The Needle and the Damage Done' Neil Young cover. Ending quite abruptly, she admitted, "I've being playing that song for 8 years and I still haven't learnt the ending". From the audience's point of view, it didn't really matter. Lacking her cellist for the night, we were also treated to another Marling rarity: Laura having to whistle the cello melody line in 'Night Terror' – and she was surprisingly adept at it. Throughout the night she presented herself as warm and friendly, even showing off a few sentences of German, which she explained "was the only language I learnt at school…but that's all I can remember." Forgetting the second line to 'My Manic and I', the audience gave out a little giggle before Laura started again from where she left off. It was little moments like this that shattered the illusion of divinity that she so often possess when she performs. Instead, she seemed more relaxed, more 'normal' even. Singing 'Made By Maid', her eyes still told of a wisdom and maturity that, at one year older than Laura, I have never quite known, yet her warmth and banter (repeated night to night as it may be), allowed us to engage with her as I have never before experienced. Her detached performance style was often noted in the previous few years, but she has, without doubt, shed the shyness that was so prevalent in earlier performances. As a seasoned performer, any remnants of coyness seem to stem from habit, rather than true personality.
There is so much more that I could write about Laura that night – her delicacy, skill, effortless charm, beauty and clarity of voice – but the truth is that she has become such an incredible performer that 'incredible' is standard at a Laura Marling show, and has been overly commented on. But what did stand out, in contrast, was the German crowd. Anyone who has seen Laura play in the UK knows the way she commands an audience: everyone is instantly silent, hanging on her every word, revering her as if a goddess stands before them; anyone making the slightest bit of noise is shushed by a nearby bystander. Yet in Germany, several people behind me were clearly singing along (a big no-no in the UK) and when newer songs were played, there were a few groups of people who proceeded to giggle and talk over Laura, simply because they didn't recognise the song; it may not have been very loud, but it was there.  I must stress, that it was, regardless, a fantastic show, and Laura was very well received in Cologne; it was a different experience to UK shows, but nevertheless, a fabulous one. Anyone with tickets to the UK run of dates is definitely in for a treat.
Words: Jess Tomkins