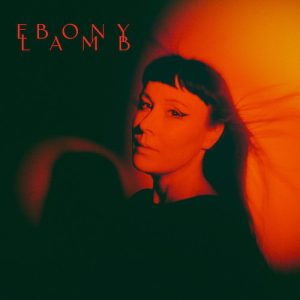 How do you define who you are? To say Ebony Lamb is a recording artist simply doesn't do her justice. She's also a preeminent photographer, whose images of New Zealand's literary figures and independent music scene gave her a certain cachet. In addition, she has also released three albums with the band Eb & Sparrow. While the split was amicable, she also realised that the sound in her head wasn't what they had been releasing. 
That definition has been challenged over the past five years since the band broke up. The world changed and then changed even more thanks to Covid. Eventually Lamb was signed by Nadia Reed's Slow Time Records. Working with Bic Runga and Kody Nielsen of Unknown Mortal Orchestra, Lamb's self-titled album has certain expectations attached to it. Even before its release, 'Take My Hands at Night' has been nominated as a finalist for New Zealand's Silver Scrolls Awards. 
Blending sounds and silence, as an album Ebony Lamb clearly isn't over produced. Elements match mood and recorded on analog equipment and mastered to tape, there's a warmth sometimes lacking in the digital world. All of which would be meaningless if the songs didn't shine. Some of the lustre comes from lyrics unafraid of dealing with worlds that often aren't spoken about. 
'Midnight is My Name' reflects on Lamb's relationship with her father, yet amidst those moments she also deals with a world expecting people to be resilient regardless of the circumstances. "It is Midnight, all the time now/ I can see this way," exposes how even at the darkest moments we can see a way through. The simple, effective guitar, bass, and drums setup the softly powerful proceedings. 
The percussion and vibes of 'My Daughter, My Sister, My Son' are sparse while delivering a meditation on how to remain present as the world continues to spin awkwardly on. Depending on the point of view taken, the final two lines, "Keep me dreaming/ Keep the dream" can be read as a plea or an instruction. Either way, remaining vigilant seems a prudent course of action. 
Making connections when things seem hopeless, 'Come Put a Record On' reveals the healing power of music. Guitar, organ and a scratched record establish the feel that drives the idea home. That communal exchange is often the best medicine one can share. Touching parts of the body words don't reach, a record's meaning goes well beyond words and music 
Ebony Lamb has gone through a lot and come out on the other side with a record that deserves to be heard. She isn't preaching or teaching, but there are lessons here that need to be learned.