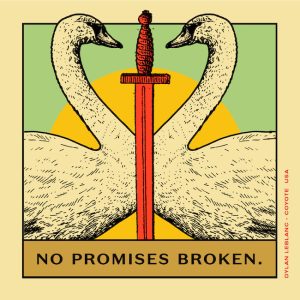 A dreamer, a drug dealer, a lover, a man caught up in the hand life has dealt him, desperate to escape. Musicians are storytellers and on his new album, Dylan LeBlanc tells the tale of Coyote, a man drawn from poverty into the Mexican drug cartels, now seeking freedom from this dark world.
The listener is taken along for the ride, as Coyote – a name colloquially given to those smuggling people and drugs across the border – is tormented by the pain and regret of his past, reunites with his lover, and struggles to leave his demons behind. Each song turns a new page, opens a new chapter, is another step along Coyote's journey.
The honest, open lyrics lay Coyote's soul bare, with the guitar, piano and drum lines – provided by an all-star cast of musicians including Fred Eltringham, Jim "Moose" Brown, and Seth Kaufman – conjuring up and underpinning the turbulent emotions Coyote experiences along the way.
From the soft, laid back, yet quietly tense title song 'Coyote' and the soaring, joyful, Norwegian Wood-esque tone of 'No Promises Broken' to the raw, harsh 'Hate' and ponderous 'Human Kind', LeBlanc perfectly encapsulates the warmth, hope, edge, inner battles and bitterness of his protagonist.
By the time we reach the final track, 'The Outside', the music back in motion and driving before cutting off abruptly at the climax of the tale, we are truly invested in Coyote's fate, left wondering on his final decision with bated breath.
This is a story that is as relevant now as it was many years ago, of materialism and the system failing the poorest, of their struggles, of how the cartels suck them in and of how hard it is to escape both a system like the cartels and vicious cycle of poverty in a political and social system that is not designed to help where it should.