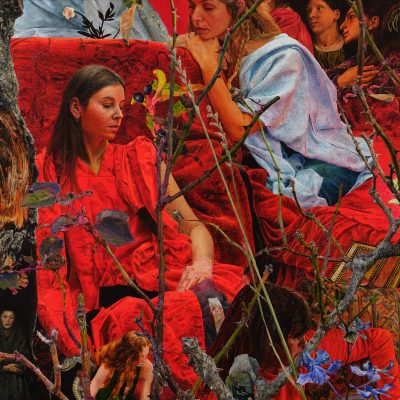 Worlds collide on Clementine Valentine's new album The Coin that Broke the Fountain Floor. Creating a sound that combines synths with guitars and layers of vocals, Clementine and Valentine Nixon construct a hybrid based on song stylings that go back hundreds of years. This hybrid is the result of their isolation during the pandemic on the Coromandel Peninsula of New Zealand. Covering more territory than initially seems possible, their repertoire includes a sense of ancestral chemistry that benefits from the deft hand of producer, Randall Dunn.
Initially recording as Purple Pilgrims, the Nixons have released two previous albums, both self-produced affairs. Nothing really prepares you for the sonic shifts that take place. Vocals and instruments are layered in ways that create something shimmering that also surges with a sense of the dramatic. While the drums of Matt Chamberlain seem to drag initially on 'Gatekeeper', it is all part of a much larger plan. By the time the vocals of the Nixons enter and the drums slip away, layers of synths strike a hopeful note, one that comes from lyrics that reside somewhere between dreams and hopes of a better future, "Tonight while the gatekeeper's sleeping / I'm lifting the key / I'm freeing the city."
Consistently creating an alchemic brew, Clementine Valentine finds a way to journey down the roads of a pilgrimage to shapes and sounds merging present and past. It is as if they have found the key to the tracks of time, resurrecting and recreating the magic and myths of past generations. Invoking that sense, 'The Understudy' largely focuses on the layered voices of the Valentines before the electronics get added to the mix. The medieval rituals at the song's core are brought out in the mystical themes the band brings to life.
Each song seems to weave its own mythic spell, taking the time to develop a sense of fabrics and colours that yield a gorgeous musical effect. Coming out of their lives being shaped having been raised in both New Zealand and Hong Kong, their experiences in places like the rouge music venues of Hong Kong's abandoned industrial estates find them existing on a precipice of a new future, one that sees them addressing the moment and the music in a new way. 
Creating a musical spell, Clementine Valentine on their first major label release, The Coin that Broke the Fountain Floor, captivate and invigorate. They seem to have found that the path to the future lies in respecting the past while not being mired in it. Their songs and voices invoke a magic that seems to exist outside time and space.