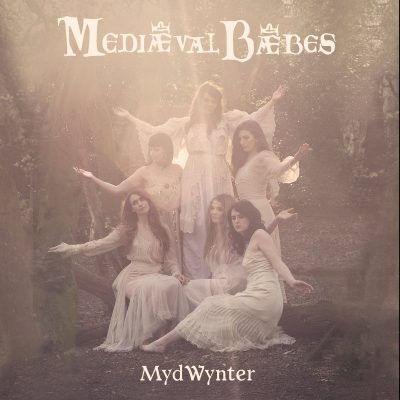 The seasonal tunes that Mediaeval Baebes have uncovered for their newest collection MydWynter are not necessarily the seasonal songs we remember from our youth. Their focus is on a much darker reminder of the pre-Christian origins surrounding the winter solstice. Track after track illustrates examples of how what we know has changed over time. Rough edges have been smoothed and what now shines brightly has not always been the case.
'Carol of the Bells' uses a melody plucked from a Ukrainian folk song. Sounding more haunted than haunting and using period instruments, it plays against type and was written with thoughts that Iggy Pop might get a guest spot on the track. Unfortunately, that was not to be, still what they've done combining two different melodies creates an exceptional hybrid. 'Deck the Halls' feels much more of a piece with the traditional arrangements, although in this case, a second melody provides a slightly unsettling counterpoint to the main theme. 
Arrangements unfold in ways that are completely unexpected. 'Mary Fre' is an old text set to the music of William Blake, yet somewhere along the way things go mysteriously astray. It's almost as if they are singing two different songs. Over the course of 2:46, it leaves you gasping for air, wonder what just occurred. 
The droning of a tanpura playing against the flute on 'O Little Town of Bethlehem' makes you keep checking to make sure they are playing the right song. Which is actually a large part of what the Baebes have in mind. Their job is not seen as mere recreation what has come before, large amounts of interpretation are involved along the way. And the standard conventions sometimes need to be stood on their head. 
In other cases, they transform into what is described as the Baebes Superchoir, ten women singing their hearts out. The Spanish hymn 'Ríu Ríu Chíu' gets this approach, marvelously massing this choir to reach new heights. What they display most clearly is that their approach to the songcraft is rooted in their ability to take songs and contexts and find ways to wield their own sense of what these pieces may have sounded like hundreds of years earlier. 
Mediaeval Baebes keep finding ways to transform the season and our expectations. What MydWynter does is truly remarkable, by creating new contexts for these songs they have made them touchpoints for new generations of listeners. How we perceive them is the real question. Are we locked into the old pathways or are we willing to attempt to understand new perspectives?