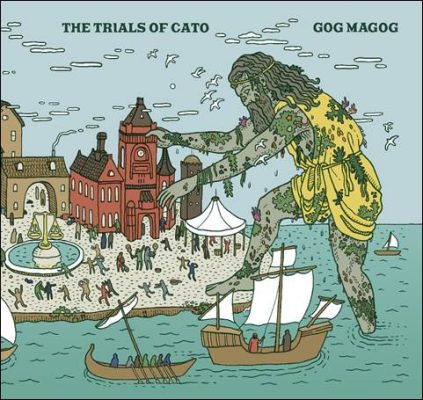 You need to have a good fix on who you are and where you are going to name your band after the roommate who hates your music, but The Trials of Cato tend to be quite fearless. Their second long player Gog Magog is named after the mythical Arthurian giant and the Cambridgeshire hilltop that served as the birthplace of their new material during lockdown. To make matters even more interesting, Will Addison left the band, replaced by Polly Bolton, formerly of The Magpies and Stillhouse. 
Boldly, Tomos Williams and Robin Jones place her right out front on the opening track 'Paper Planes'. There's no point in trying to hide her, playing Irish Bouzouki, clawhammer style banjo and mandolin, she is a able replacement, while her vocals play well to a softer side, yet she still has the ability to set things afire when necessary. Equally adept on vocals and instrumentals 'Paper Planes' offers up plenty of questions especially the repeated, "Who knows if you've been lonely?"  Who indeed?
The instrumental 'Gog Magog' plays out between two banjos, with the bass laying out the heavy footsteps of the giant. While the tale of the giant is one that is supposed to be scary, in the hands of these three, it seems much less so. There are also hints of Arabic in the piece, leading back to their early history in Beirut. 
Taking a modern look at the black death, 'Ring of Roses' sees Covid through a similar lens – our modern plague. Coming out of the first lockdown, Bolton sings in the lightest of voices, at times using nothing more than the slightest breath of air, aided by guitar and banjo both brilliantly restrained at the songs beginning. 
Harkening back to their Welsh roots, 'Aberdaron' is a homage to the village, a setting off point for pilgrims intent on visiting the Bardsey Island monastery. Beginning acapella, the song moves toward some restrained guitar and mandolin, followed by an instrumental section featuring both the banjo and mandolin. 
Inspired by the Bedlamite poem from the 1600s, 'Bedlam Boys' harkens back to the technique of the times when feigning mental illness was a proven, lucrative method for begging. Opening with a short sample of Steeleye Span's version (although twisted enough to be almost unrecognizable), the band fuses dance, jazz and folk to delicious effect. 
Flavored with spices from the Middle East, 'Balls to the Wall' sees mandolin, guitar and banjo battling for musical supremacy. A truly engaging instrumental, the three seem to battle to a draw. Concluding with 'Green as You', The Trials of Cato have proven themselves equal to the task of matching and surpassing Hide and Hair. The real mystery of Gog Magog is how they continue to create such inspired and inspiring music.