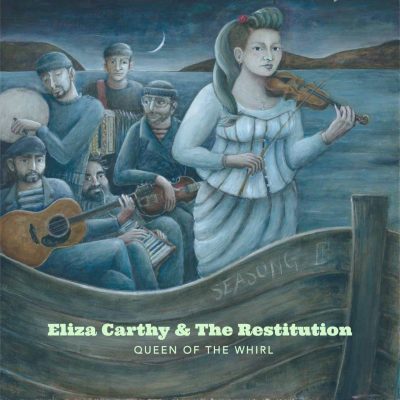 "Music is mathematics. You can actually learn about the science of how arpeggios affect your nervous system. Music is so undervalued. It can be life-changing." – Eliza Carthy
To be honest, if you're reading this review on For Folk's Sake, you probably don't need much introduction to the awe-inspiring wonder and all-round life force that is Eliza Carthy. She has been a focal point on the English folk scene for over five decades and her family lineage stretches way further back than that. Nor will I concentrate on the problems and obstacles that have had to be endured over the past few years. This is a music review, not a gossip column, and there's plenty of information to be found on the internet if you need to dig further. What I want to do here is celebrate this album, released to acknowledge 30 years as a touring musician, so those foundling days when Carthy left full-time education to give it a go on the road. This may have been against parental advice at the time, but it seems to have held her in good stead over the years. The music scene is certainly a lot richer and diverse for her contributions and collaborations.
It's that music that is featured on Queen of the Whirl. An album of newly interpreted favourites chosen by fans via Twitter polls (barring a couple that have already received recent versions). There's plenty of traditional songs to be found on this collection, recorded with her band The Restitution, from 'Pretty Ploughboy' to 'The Snow It Melts the Soonest'. The latter being from her 1998 Mercury prize nominated album Red Rice, one of several releases you should be hunting down if you're not already a follower.
But it isn't just the traditional recordings that found their way onto the final selection. Carthy's own compositions and songwriting ability are given centre stage too. Especially those from 2008's Dreams of Breathing Underwater. From the Jerry Springer name-dropping drunken night at the theatre inspired 'Blood on my Boots' to 'Two Tears' and a truly magnificent spin on the already magnificent 'Mr. Magnifico'.
When I first was taking home Eliza Carthy cassettes from the music library in North West London many moons ago, 'Mohair' became one of the first pieces of music that I fell in love with without parental influence. It still stands the test of time. As a much older gentleman, two other tracks from this collection stop me in my tracks in different ways. Firstly, 'Space Girl', a track from The Imagined Village's second album Empire & Love is simply stunning here. Originally written by Ewan MacColl and Peggy Seeger – 'They say a gal must travel to find their superman" – this song of a mum trying to convince her daughter not to fall for a martian – sounds trite on the surface, but is wonderful in delivery.
Secondly, and much differently, there's the almost acapella 'In London So Fair'. This traditional song was originally featured on the 2002 release Anglicana, it may seem like a simple love song, but is given several fresh coats of paint in its latest interpretation. This recording stopped me in my tracks, maybe it's the time that has passed since I first heard it. Carthy's delivery is spell-binding and you're willing the young girl and the captain to find happiness together on the sea by the time the song is over.
Carthy is currently the president the English Folk Dance and Song Society, and she's desperate to drag the folk world into the modern world, especially when it comes to diversity. In interviews, Carthy says that the spectrum of what we call folk is a lot wider than we care to acknowledge, including the likes of Ariana Grande. This is also celebrated in the closing track here, 'Good Morning Mr Walker', which is a beautiful and foot-tapping calypso of the highest order. It also gives a nod to her late mother's Norma Waterson brief time as a DJ on Radio Antilles. Carthy's journey is just beginning. Put the word folk aside for one moment, because the whole music scene is a whole lot brighter and more vibrant for all that she does. Here's to thirty more, Dirty Gertie!