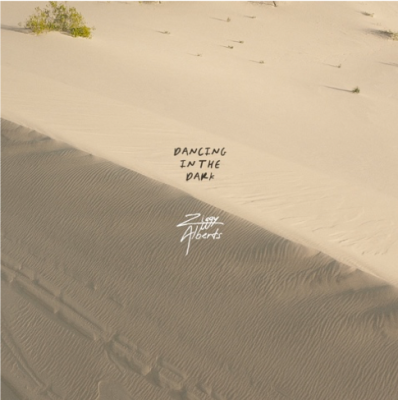 In a world that seems to be filled with so much hate and destruction all the time, it can be hard to escape and switch off from the negativity of it all, especially when our screens are built to almost fill us with so much agitation. Australian singer-songwriter Ziggy Alberts has helped us all to take a moment to reflect upon the good and beauty that still very much exists. In his latest album Dancing In The Dark, Alberts has created something honest, genuine, and emotionally vulnerable all wrapped up in his ever-evolving future-folk soundscape.
The title Dancing In The Dark perfectly encapsulates what we can expect from Ziggy. This 10-track record has been created for the purpose of helping us all to strive and look for the happiness and hope whether we may be. In his own words, Alberts states, "I hope these stories lift you up and keep you together even when tides of change encourage us to do the opposite." Alberts doesn't manage this just by himself, however, with a little help along the way from the great Canadian singer-songwriter Donovan Woods. The pair join together for 'The Sun & The Sea', a captivating critique of the distance that's being drawn between us in modern life. 
The album opens us back up into the world of Ziggy Alberts with 'Campfire'. Setting the tone with his iconic coastal charm, the single takes on one of the more stripped-back approaches on the record. With its euphoric ambience and spacious melodies, 'Campfire' really does carry you away into being gathered around with your closest friends feeling safe and reflecting on the beauty of life. It is easy to see why this is one of Ziggy's favourite moments in the album.
We are then walked across a bridge onto 'I Believe', leading through a forest of reflection. Though it's more melancholic than its buoyant counterparts, Ziggy still reassures us with glimmers of hope that he truly believes that "everything will be alright". As the album weaves in through the much-loved singles like 'The Great Divide' and 'Rewind' there is plenty of new material too, including 'Cinnamon Daze', 'Halley's Comet' and the album's focus track 'I'm Sorry'.
Talking about the record and what inspired him to create it, Ziggy divulges that, "the very first inspiration for Dancing In The Dark came to me on a plane in 2020. I had not even yet finished 'searching for freedom', but through creating that album, I started dreaming about where I would like to go next."
Alberts has once again outdone himself with another incredible album, in fact, this sixth studio addition may even be his best so far. With its refreshing melodies and sun-soaked harmonies, Alberts' introspective lyricism and luscious instrumentation all make for a perfect album arriving at a time when it's needed most.