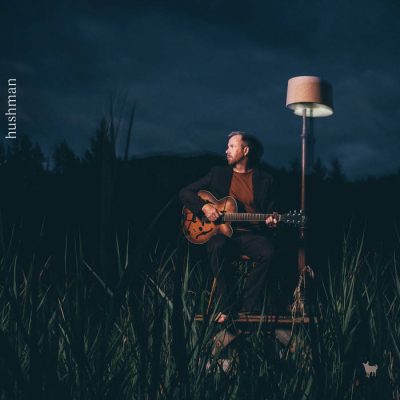 "I am not from a family of tradition bearers, but my forebears hail from all over the British Isles and music is in my bones. I think song is a great medium to tell a story and it's an amazing thing listening to a good singer living out a song / story…not to mention a good storyteller letting loose".
The above quote is taken from the Modern Fairies project that folk musician, singer and songwriter Ewan MacPherson was involved in a few years ago. It's one that he's carried throughout his career. From solo albums like Fetch! and Norther to his work as a member of Shooglenifty and Salt House, whose work Undersong is definitely worth seeking out if you're new to the name and would like to explore further.
His latest project is now primed to be released into the wild. Hushman sees MacPherson join forces with the likes of Lauren MacColl, Hannah Reed, Ben Nicholls and James Mackintosh. All tracks are written by MacPherson himself barring two. First, there's the wondrous 19th century 'Beltane' celebrating the time of year for horse breeding or when cattle and sheep were returned to the fells. Secondly, there's the even more intriguing 'Duke Henrik', a Swedish folk song originally taken from 300 Nordic Folk Songs and first transcribed in 1855.
The album itself kicks off with the beautifully melodic and perfectly delivered 'It's All in the Distance', MacPherson delivering lines like "Queen of summer melody/sing your stories to me/We'll just sit inside the house/As the land burns all around" with a rich earthiness that carries all these songs to another level.
So many of the lyrics throughout Hushman bring me to mind the written work of Robert MacFarlane, where nature runs alongside people and how both try to prosper in a modern world so dismissive of both their needs. No more so than on 'Freshwater Salt', a song about the feeling disempowerment many currently feel. 'There's a hundred men in a hundred rooms/In a hundred towns/Trying to take us down". There's also lines of escape "the year is slowing down/into the cold we step out" begins 'Playing Giants' before talking later of "laughter drifting clearly on a golden afternoon".
Lines are full of landscapes, yearning, nostalgia, pressing on, love, togetherness. There's a sense of camaraderie and community in the playing too. The musicians involved bring their 'A' game to every track. No more so on the beautiful, plaintive 'She Climbs the Munros'. As MacPherson sings about how the main character is "strong and she's brave/This is her time/She's not going to fall on her own", the wonderful violins and violas of MacColl and Reed play in the background, accompanied by simply gorgeous piano lines from Thomas Hein.
MacPherson has been compared to both John Martyn and Nick Drake previously, and you can see why the comparisons have been made. I think, though, it's important to see him as standing on his own island too. These songs were crafted in the Scottish Highlands, and this backdrop finds its way into the recordings too. The thin walls in the cabin where they recorded sometimes betraying their intentions and allowing the noise of the lashing rain and howling gales in. You can him them sparely in the songs.
There's an honesty in the songs and a strong belief in the recordings made. This project is the latest in a string of successes for MacPherson and, if you're not already aware of his art or ability, this is the ideal starting point. It'll certainly be one of my go-to albums throughout this long winter.