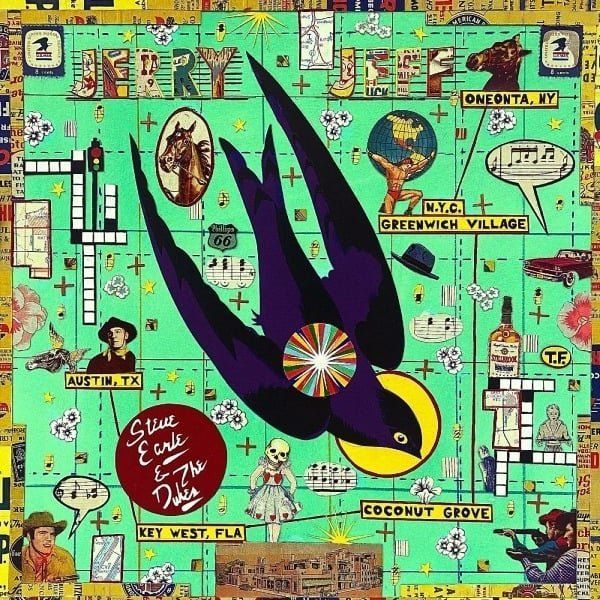 Three men had a huge influence on Steve Earle; Guy Clark, Townes Van Zandt, and Jerry Jeff Walker. Having made tribute albums for the other two, it's only natural that Earle and The Dukes should record Jerry Jeff. In some ways this one was more important than the other two, as he makes clear, "The records were recorded and released in the order in which they left this world; but make no mistake – it was Jerry Jeff Walker who came first." Those three were first-hand teachers and Earle soaked up as much as he could from all three.
What makes this set so special is the fact these are all songs that Walker wrote, and while he was also known as a great interpreter of the material of others, especially Guy Clark, these songs prove that as a writer he was no slouch. They also prove The Dukes are great players and singers. Eleanor Whitmore's backing vocals give a beautiful edge to 'Gypsy Songbird', as Earle asks questions that have no answers, "Wonder if you've seen that little bird/ I wonder if he's sat upon your windowsill/ I wonder if you'll ever hear these words/ And the picture of my face/ On the windowpane/ Is it tears I see or is it rain?"
There's no doubt that Walker is best known for 'Mr. Bojangles' yet Earle still finds a way to imbue the song with an extra dose of beauty and sorrow. His voiced etched with age and road weariness seems a perfect match for the lyric. There's a huge sense of pain when singing about Bojangles best friend, "He spoke with tears of fifteen years/ how his dog and him travelled about/ The dog up and died/ He up and died/ After twenty years he still grieves." That last line speaks volumes while the violin and mandolin add yet another dimension to this classic.
The final two songs on the album seem to form a perfect ending with 'Wheel' telling stories about a family that in many ways lived and died by the steering wheels that drove their lives. Recounting a father blown up in a jeep during the war, and a brother whose racing cars led to his demise. Yet the call of the road in some ways was all that Jerry Jeff knew and Earle's reading of 'Old Road' illustrates how the call of the highway had an undeniable pull on Walker, using little more than the connections between highways. 
The influences that shape someone are rarely on display the way they are on Jerry Jeff. These songs feed the fire that has burned in Steve Earle's soul, making this album by Steve Earle and The Dukes a fitting tribute to the legacy of Jerry Jeff Walker.