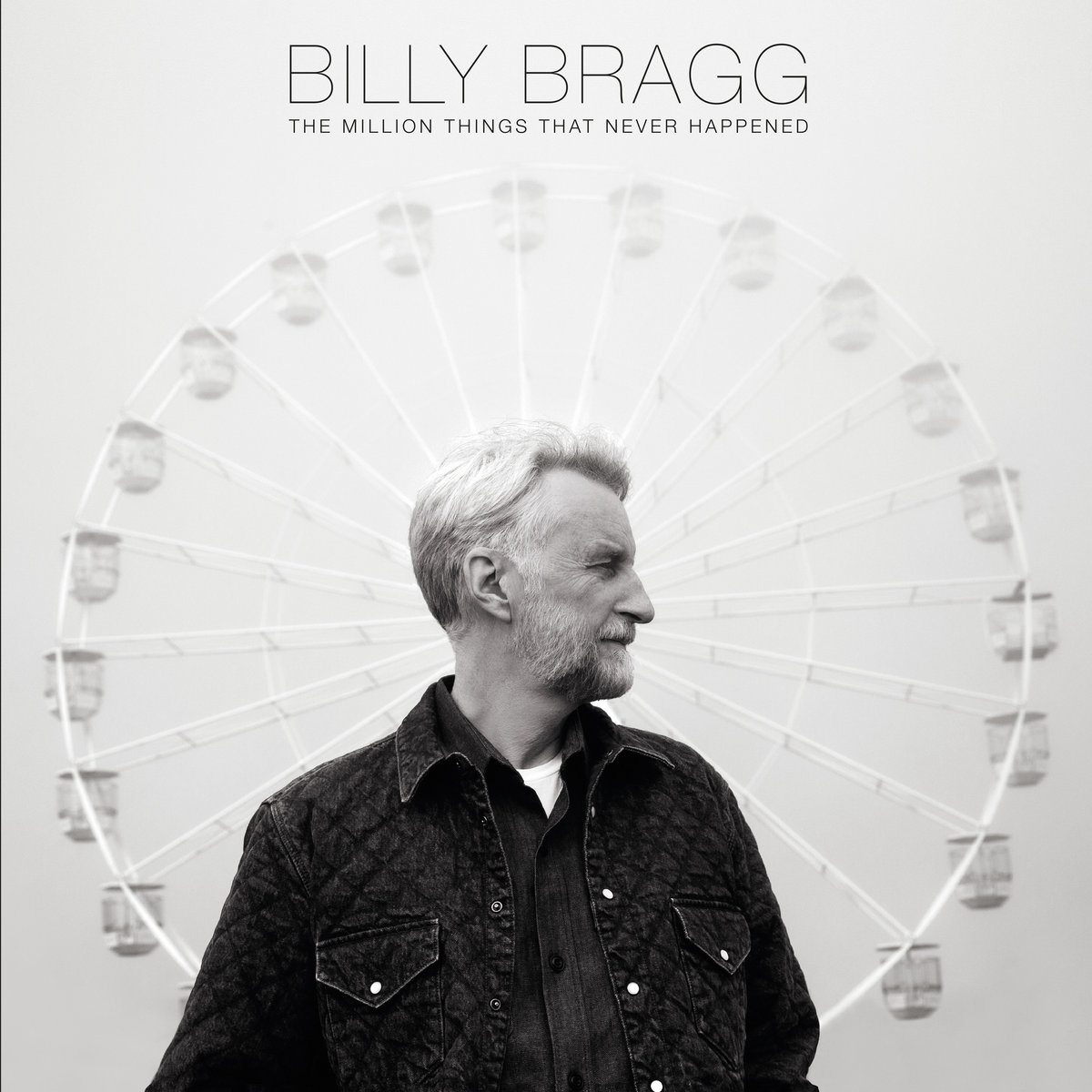 At the age of 63, Billy Bragg finds himself in an interesting place, one that he never expected to be in, documented on The Million Things That Never Happened. The thing is the Bragg we expect in some ways has never really existed. Rather than just being a guy with a soapbox, as a songwriter he's always been more of a pop singer than we realized. And the songs on The Million Things That Never Happened illustrate that point.
For a man in his 60s he's just starting to realise how much people can be co-opted by the inevitable march of time. 'Should Have Seen It Coming' illustrates how little people can see or do if they choose not to look. When he sings, "I'm gonna climb the highest mountain/ And struggle with all my might/ To see if it's fog that's dimmed my senses, Or the fading of the light." The answer is not always what you want it to be.
The album has a sheen thanks to the production of Romeo Stoddart (from The Magic Numbers) and Dave Izumi, who lend a hand on an array of instruments from guitars to keyboards including Hammond organ to piano, Moog and Mellotron. These instruments provide a sonic sheen on songs like 'Mid-Century Modern', where Bragg deals with the notion of where he is at this current point in time. "Positions I took long ago feel comfy as an old armchair/ But the kids who pull that statues down they challenge me to see/ The gap between the man I am and the man I want to be." 
Songs about the pandemic are starting to multiply almost as rapidly as Covid-19. Bragg, however, hits a very human note on 'Good Days and Bad Days'. Using a home demo for the first verse of the recording, we can feel both the loss and sense of being lost that so many people have experienced. "Spending my days like I'm lost in a fog/ Got nowhere to walk that big old black dog/ And I just can't believe what this has done to my health/ Don't judge me too harshly, I can do that myself." Boy, isn't that the truth!
In 'The Buck Doesn't Stop Here No More' Bragg takes aim at an American way of life where words and deeds don't always match up. Mournful organ plays throughout, as he lays out exactly how the American dream has been found wanting. He has plenty of scorn, especially when it comes to one former (and perhaps future) leader, "If history teaches us one thing/ Never trust a man who would be king/ Who seeks all power for himself/ To burnish his prestige and wealth."
Bragg has called 'I Will Be Your Shield' the "heart and soul of the album." It's a song that resonates because at the end of the day empathy is something that we all need.  He calls it, "the currency of music." Lord knows we've never needed that more. As he relates, "After what we've been through, the idea of being a shield physically, emotionally, psychologically, should resonate." 
Billy Bragg has created some truly great songs over the years, and this collection is no exception. The Millions Things That Never Happened is an album for these times, and any times.