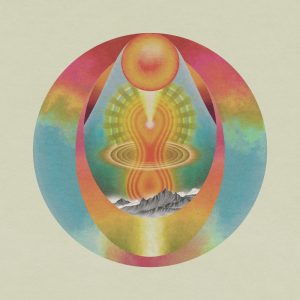 My Morning Jacket, the band's self-titled new album is a lesson in inspiration. For a band that was on the verge of breaking up, playing together seemed to have lost much of the glow. However, a funny thing happened as they considered their future. They performed at Red Rocks in Colorado, and from the minute they stepped on stage, Jim James and his cohorts, Tom Blankenship, Patrick Hallahan, Carl Broemel and Bo Koster knew that there was more to do and this was the band to do it.
My Morning Jacket is a record that has been gestating for a number of years, some songs nearly appeared on The Waterfall II. Still, there's a new sense of purpose that imbues this album. A new sense of energy. 'Regularly Scheduled Programming' opens with a pulsing bass line as James sets up the situation, "Programming to drown out how we feel/ Fresh fiction, rewriting how we think/ Screen time addiction, replacing real life and love/ Erasing forgiveness/ Bow down to your overlords." As the full band comes in the song surges aggressively, despite the fact this is a plea to stop the growing internet addiction that has most of us entranced in a glowing screen and relearn the power of speaking to one another.
The antithesis of 'Regularly Scheduled Programming', 'Love, Love, Love' is a breath of fresh air that speaks to powers inside each of us. James suggests that it, "…speak(s) toward positivity and pure love, finding the truth within yourself and in the world around you." Bass and rhythm guitar hold things in place while the electric lead stretches out in waves, keyboards adding colours and shading.
The band also gets plenty of time to stretch out, especially on 'In Color' where twin guitars burn before each heads off in different directions. Fanning the flames is the organ of Bo Koster. These are incendiary moments and just like a fire burning out the song slows down towards the end with glowing embers lighting the way. Another highlight is 'Never in the Real World', where the guitars enter gently before bass and organ amp up the volume. This is the sound of a band that's clearly enjoying themselves, making music on their own, no outsiders just five bandmates playing their hearts out.
Energetic and focused, the band plays with the kind of verve that comes from being in the same room functioning as one rather than five individuals. 'Out of Range II' enters on gentle waves of guitar and keyboards, before a swirling six-string solo ups the ante on a piece with pop melancholy written all over it.
Closing the album, 'I Never Could Get Enough' is a warm reflection of love, the kind that always leaves you wanting more. Synths and acoustic guitars reflect the depth of the feelings as they build slowly with a fervent intensity, but never boils over. This is the kind of love that keeps going through the years. With My Morning Jacket, Jim James and company have created a passionate plea for understanding – each other and the things that make us unique. Theirs is a vision suggesting the power of words and music can create a world that truly begins to heal.