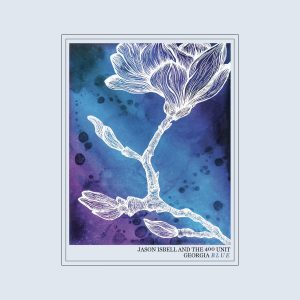 Inspiration for albums can come when you least expect them and for Jason Isbell, sitting at home on Election Day 2020, this is no exception. "Georgia Blue is a labor of love," Isbell said. "On election day 2020, when I saw that there was a good chance the state of Georgia might go blue, I came up with an idea: to record an album of Georgia-related songs as a thank you to the state and donate the money to a Georgia-based non-profit organisation". He goes on to admit that part of the inspiration was selfish. That there was a series of songs that he'd always wanted to record and this gave him a great excuse to do so. So he rifled through his contacts, called his band The 400 Unit together, and Isbell and his wife Amanda Shires went down to the Sound Emporium and Blackbird studios in Nashville to do exactly this. The money raised from the album will be shared between Black Votes Matter, Fair Fight and Georgia STAND-UP.
The results of these sessions deserve to be treated way better than just a tribute album to the Peach State, or as a placeholder between his last studio album Reunions and whatever he next has to offer. His contact book came up trumps – pardon the pun – and guests include Brandi Carlile, Chris Thile, Brittney Spencer, Julien Baker and John Paul White. The songs recorded show the strength in depth that Georgia has to offer with acts covered including R.E.M., James Brown, The Black Crowes, Cat Power, Indigo Girls and the late and lamented Vic Chesnutt.
R.E.M. are Georgia's most famous sons so it's only fitting that songs by them bookend the album. The opener 'Nightswimming' swaps the plaintive piano that so famously backs the original for acoustic guitar, with banjo and mandolin doing the rest of the work, played by the aforementioned Thile and Bela Fleck. It's a simple beginning to an album that allows all the songs to breathe and stand on their own two feet. The album closes with 'Driver 8' as Isbell dives further into R.E.M.'s back catalogue and pulls out this early classic from 1985's Fables of the Reconstruction, joined on harmony by John Paul White. This anthem is to the state's Southern Crescent train, which stopped running 42 years ago.
In-between these two, there are pleasures everywhere to be found – whether it be on a bruising and bluesy rendition of The Black Crowes' 'Sometimes Salvation' with the band's own Steve Gorman providing extra muscle on the drums or a faithful rendition of the Altman Brothers 12-minute plus 'In Memory of Elizabeth Reed', which shimmers and shines thanks to Isbell, his exemplary band and the hammond organ skills of the legendary Peter Levin. One of my favourite tracks is 'Reverse', originally recorded by Now It's Overhead and here reimagined as a The 400 Unit staple. Just before the end, Isbell strips everything back and allows his band to take centre stage to lay down a version of Vic Chestnutt's 'I'm Through' – a beautiful track from 2003's much underrated Silver Lake.
Brittney Spencer is the stand out here though, whether on a majestic rendition of the classic 'Midnight Train to Georgia' or on the equally famous 'It's A Man's, Man's, Man's, Man's World'. It may well indeed by a man's world, but for almost 70 minutes, allow yourself to be transported to Georgia and discover the artists and bands who originally wrote these songs if they're new to you. For we're living in Isbell's world now.