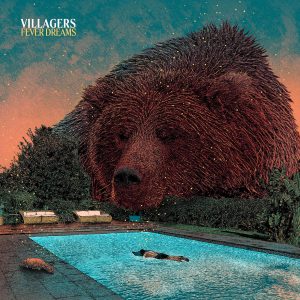 Conor O'Brien's gradual inching from his acoustic folk roots since 2010's Mercury-nominated debut Becoming A Jackal is fully realised in his kaleidoscopic fifth studio album. 
Recorded with a band pre-pandemic, it's intriguing to wonder how much Fever Dreams morphed into its lysergic final shapes in the lockdown months that followed at the hands of O'Brien and mixer David Wrench (Frank Ocean, FKA Twigs, The xx).
Villagers' first album since 2018's The Art Of Pretending To Swim, Fever Dreams is certainly the largest in ambition and scope to date – with O'Brien's intention to create "something that was as generous to the listener as it was to myself." This initially traps us in a kind of wonky underwater phone box, the bubble popping a few bars into 'The First Day' to reveal a technicolour world of horns, yelps, xylophone and thick bass-lines as O'Brien opines the rebirth of "snowflake", "sunshine" and "falling in love."
Dense but not heavy, there are many masterful touches plus an almost total lack of cynicism in O'Brien's lyrics, which are as rich as the music they bathe in. 'Momentarily' sees him switching between concerns about "the little things that devour", like coffee stains and car alarms, to global fears regarding the "forest fire on the front page". 'Circles In The Firing Line' finds O'Brien even more fractious, jagged guitar, voices and bleeps piercing the warmth, while 'Restless Endeavor' builds to a skronky crescendo around its one-phrase loop.
It's the sumptuous soundscapes that are the most striking, at times echoing classic Laurel Canyon songwriting, jazz and soul. This is lushly played out in the seven-minute 'So Simpatico', an ode to a newfound love which had been there all along, complete with a celebratory key change and O'Brien repeating "the more I know/the more I care". The refrain resurfaces in the aching 'Full Faith In Providence', a stripped-back song which has angelic female harmonies twirling around O'Brien's haunting vocal melody and piano, and again in the music box-like title track.
Fever Dreams seems to be about the uncovering of treasure that has been hidden or taken for granted; a way through the nightmares referenced in its name. It is lovingly, and cleverly, pieced together – an aural balm to ease us into fragile re-entry. The more I know, the more I care.
@petebate