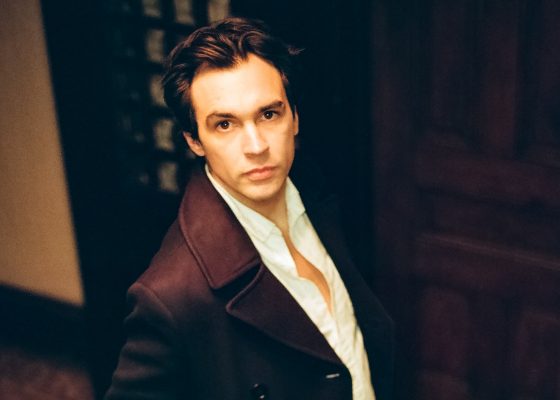 Ben Stalets has seen his songwriting renaissance with Everybody's Laughing. The album, due 27 August, was based less around a sound and more around a saying: "Collective suffering allows us to collectively suffer less." It finds beauty both in irreverence, as well as sheer cerebral might, and oftentimes at once. Sonically, it plays like a who's-who of prolific late 20th century songwriters; sometimes he evokes tinges of Simon and Lennon, or Zevon and Prine. His down-to-earth vocals a chameleon, Stalets deftly navigates his offbeat roots rock, a convincing songwriter and frontman, to boot.
Tell us about your new album, Everybody's Laughing.
Everybody's Laughing calls for all the lonely hearts to suffer together. Like that Mark Twain quote "the secret source of humor is not joy, but sorrow". Everybody's laughing. Almost every song offers me up as an example of what I did to get where I am and that maybe we're not so different. If we're all suffering, then no ones alone. If we're not alone, maybe we won't suffer… as much. You know? Shit. Just trying something different.
I recorded it in Detroit at Bunky Hunt's. It took us about 2 years to pop this bad boy out. No album too soon. I'm proud of the songs on here. They all sound like how I talk and who I am. They also all sound very different which was a HUGE goal of mine. It's a very Ben record, it wouldn't have been that way if I didn't have Bunky to rearrange some things and trust my weirdo instincts and reel them in, Drew (Rochotte) to execute musical ideas I had but lacked the skills for, and Will Doremus to hold it down as the best bass player in the world. Love those guys.
How did the collaboration between you and Bunky Hunt come about?
Bunky had been to a show of mine and inquired about coming to his house to do a show. I never played that show, but we did record an album together. So I think that worked out in our favor. Bunky and I get along great. We have the same goals in mind and neither one of us likes to waste time. He was very open to me trying some weirdo shit on this record and then honing it in when I went too far or he heard something better, and honest about the fact that he's never really strayed away from the Americana sound. I'm happy to say that this album is not what either of us consider Americana, but you can call it what you want. We both like it, it's got our names on it.
What's the biggest thing you learned from making this album? 
That I'm a minimalist. There's a lot of sounds on this record, I like all of them and they fit each song well. But Bunky was really patient with me and we diddled around in the studio a lot, finding weird synth noises, weird melody lines for different instruments. Choir like oh's and ah's. I'd say 90% was either thrown away or buried in the mix (rightfully so). He wrangled a lot of my messes together with his wrecking crew and good ear. Next album that we do, I intend to go in with my shit hot 4 piece band, and leave with each song done at the end of the day. I need limitations, my songs are weird enough without all that other shit and when you play good you don't need as many sounds.
What have you been listening to music-wise lately?
I'm obsessed with Willie Nelson, and I don't think that'll ever change. So, him. Izaak Opatz, Chet Baker, Todd Snider, Billie Holiday, Miles Davis. I like to listen to Willie because he's like all of those people together. He writes big boy songs, but he puts his stank on them, and their undeniably a Willie song. Whether you only hear his guitar, or his voice, or even his production. I like people that remind me what it's worth to be your authentic self. It's always going to come through in your art.
What are your plans for the rest of 2021?
Don't get into trouble. Put this baby into the world. Have a badass release show (September 12th at Toledo Spirits in Toledo, Ohio duh). Play some regional shows with my shit hot band. Find a GOOD booking agent. Get everything ready to hit the road hard in 2022. Make more weird merchandise, record another record, just get my little machine running, again. Better than ever.
Words by: Jonathan Frahm