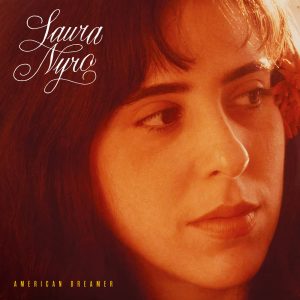 "I don't accept any limitations as a writer," Laura Nyro said and no words have ever been truer, with the proof on display in the eight-disc collection of American Dreamer. The four albums she released from 1967 to 1970, (More Than a New Discovery, Eli and the 13th Confession, New York Tendaberry and Christmas and the Beads of Sweat) set a standard for musical complexity and innovation that few have reached. While some may see her 1971 Gonna Take a Miracle as a sideways step, these classic soul re-recordings with the help of Labelle offer a look at the songs that shaped much of her own work, reflecting a time when music was dominated by men. The five-year gap before the release of Smile and Nested two years later, reflect a tranquil woman, a more mature artist.
While her first album contained five Top 10 hits for other artists, Nyro's recording, More Than a New Discovery barely squeaked into the top half of the Billboard 200 at 97. Not exactly an auspicious beginning, but Verve Records really didn't know what to do with her. Not allowed to play piano on the album, she was encouraged to play guitar but refused. Even so, songs like 'And When I Die', 'Wedding Bell Blues', and 'Stoney End' are impossible to resist.
Recording Eli and the 13th Confession in January and February of 1968, Nyro was more firmly in control, having written the entire album and co-producing it with the album's arranger, Charlie Calello. Songs like 'Eli's Coming' and 'Stone Soul Picnic' became hits for Three Dog Night and 5th Dimension. Featuring players like Hugh McCracken, Chuck Rainey and Joe Farrell, this was an album that influenced everyone from Elton John and Todd Rundgren to Paul Shaffer, who considers it the record he'd want with him on a desert island.
Darker and more intimate, Nyro's New York Tendaberry was co-produced by Roy Halee. Far more intimate than preceding albums, it became the most commercially successful album of her career. Sparser than previous work, Nyro communicated with Halee using colour metaphors since she could not understand musical notation. Thematically influenced by New York City, her hometown, it still stands up, illustrating the strength of her song writing.
For her fourth album, Christmas and the Beads of Sweat former Young Rascal Felix Cavaliere and Arif Mardin had taken over the production duties. Encompassing the star power of the Muscle Shoals Rhythm Section, Duane Allman and Alice Coltrane, the album strikes a balance between the lighter joyful side of Eli and the 13th Confession with the moodier vibe of New York Tendaberry. Ranging from the joyful 'When I was a Freeport and You Were the Main Drag' and Coffin and King's 'Up on the Roof' to the contemplative 'Christmas In My Soul', these four albums reach heights that framed her legacy.
Rather than being a step back, Gonna Take a Miracle, Nyro's album with Patti Labelle, Nona Hendryx and Sarah Dash singing backup, is an album of influences that came about because Labelle's manager was doing an interview with Nyro and Labelle tagged along. Soon they were on the road together with Labelle cooking for Nyro. Produced by Gamble and Huff, Nyro remained very much in charge, combining tracks like 'I Met Him on a Sunday' and You've Really Got a Hold on Me', with soul ballads like 'The Wind' and the sultry 'Désiree'.
Both Smile and Nested, reflect a more mature, established artist. Reflecting a woman who has moved on to marriage, motherhood and divorce, these two albums probably never could have hit the high notes for her first four releases.
Completing this 8-disc set are a series of 15 rarities, singles, demos and live recordings that help to provide a more complete picture of Laura Nyro. From the simple, yet sublime, piano and voice rendition of 'Stoned Soul Picnic' to a live version of Carole King's '(You Make Me Feel Like) A Natural Woman', American Dreamer offers a look at one of the first female singers and songwriters to break out and provide a look at the world of women. Besides being an American Dreamer, Laura Nyro was an American original.