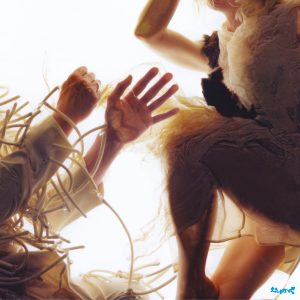 In a world that often expects musicians to release the same record over and over again, LUMP are explorers on a mission forcing them through unexplored pathways, and Animal suggests that there is plenty of searching still left to be done. Initially thought to be a one off, Laura Marling and Tunng's Mike Lindsay have structured a quest for alternate universes where the rules are completely different. As a result, LUMP continue to grow and change as they discover new parameters.
There are shifts to LUMP that reflect those changing perspectives, nothing is exactly as it was three years ago. The way Lindsay sees it, "We created LUMP as a sort of persona and an idea and a creature. Through LUMP we find our inner animal, and through that animal we travel into a parallel universe." Probably not your typical folk perspective, which explains why the electronic component to the album is exceeding high. While Lindsay focused on the music, Marling dealt with the lyrics, saying, "There's a little bit of a theme of hedonism on the album, of desires running wild. And also, it fed into the idea we had from the start of thinking of LUMP as a kind of representation of instincts, and the world turned upside down."
The sequencers that open 'Bloom At Night' establish a foundation while Marling invokes a Biblical fantasy: "Those who find themselves acclaimed go to God to get renamed/ it took one God seven days to go insane." The insanity fragments with multiple Marlings singing "insane" while the bass comes in and moves the song into full bore as drums and bass are added to the mix, suggesting that this LUMP is a very different beast to the first.
Segueing into 'Gamma Ray', a heavy dose of percussion takes over creating a darker, primal groove. A disaffected, almost distracted Marling sings, "Licked with fire/ those old desires/ that live within." Shifting towards a more human and humane voice she later adds, "The agony/ the fantasy/ something to be caged." Warping beats and shifting lyrics develop most unsettlingly. By the end, Marling's processed vocals add to the ever-shifting theme.
There are twitchy moments on Animal that make you feel like this will be a horror movie, yet by song's end Lindsay's music has taken on a more hopeful tone also reflected in Marling's vocals. 'Climb Every Wall' plays as the anthesis of The Sound of Music's 'Climb Every Mountain', instead of attempting to scale the heights what occurs is a doorway to inner torment, "Pulling very hard to be locked out/ The handle came away from the door/ Freedom, at last, had been knockеd out/ But you fell on your arse on the floor."
Written for her solo efforts, 'Oberon' was never able to find a home, but as the next to last track on Animal Lindsay gives it a gentle loving touch that works well as it moves into the finale, 'Phantom Limb'. Not far from a bossa nova, the piece offers a fitting close. Tying things all together, Marling again recites the closing credits just as she did on the initial offering.
As a repository of influences that don't fit within the constraints of their day jobs, Laura Marling and Mike Lindsay use LUMP to move farther afield, examining realms that may not be quite as fan friendly. Yet Animal proves that there is much to be gained from excursions that move into more uncharted territory.