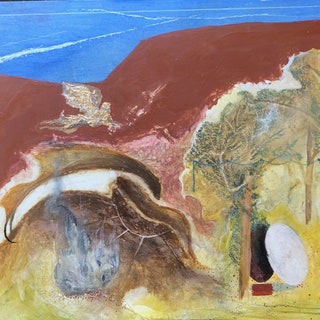 Folk music constantly reinvents itself, turning something old into something new and unheard. Sometimes like the black browed Albatross that occasionally visits the cliffs at Flamborough, a strange sighting occurs and we are gifted a very rare and unusual spectacle. This is how the world felt when Shirley Collins released the excellent Lodestar, her first record in 38 years, in 2016. 
Having followed that up with Heart's Ease in 2020, it is wonderful to see folk veteran Shirley Collins exploring new sounds and tones in her latest EP Crowlink. 
The spoken word and birdsong of 'Across The Field' opens proceedings and sets a pastoral tone both traditional and reverential, while the stately elysian feel of the instrumental 'At Break of Day' showcases Mathew Shaw's field recordings and synth, gently working up a folky ambient vibe. There's a feel of an English raga in this.
Field recordings – made at Crowlink, Firle Church and Etchingham – are used throughout the EP. Recorded by Matthew Shaw they form an essential part of the EP, giving the songs a sense of provenance and timelessness. The layered droning synth pads and Shirley's rich distinctive voice are the other elements at play in Shaw's hands as producer.
Shirley Collins is on fine form in this delightful audio postcard from the edge. Take your ears on a trip to the seaside at Crowlink and chill-out. You'll have a grand time in good company. Revel in the natural sounds of Crowlink – a delightful hamlet in the Seven Sisters – and Shirley Collins's happy place.