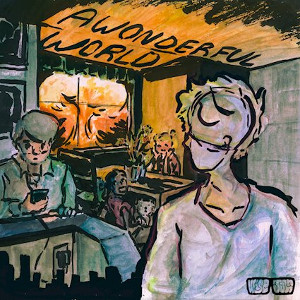 Wise John was already living through a personal dystopia during the opening thrushes of the COVID-19 pandemic. Bed-ridden by a chronic illness in late 2019, a series of unfortunate events came to follow—including knocking his front teeth out, being dumped by his partner, and moving back in with his parents thereafter. The artist himself stokes it out as a "total lack of direction", but it still birthed some slice of goodness in the form of A Wonderful World. Most of its inspiration came to him while living it up in Orange County, informed by the world around him as it seemed to turn back up on its side and prepare to die.
A downer of a background begets a wonderfully eclectic collection of songs, sometimes even stilting towards the positive in their disposition. Affairs open with the beautiful reflections of 'Won't Somebody Let This Caged Bird Fly?' – an earnest reflection, dipped in jazz-influenced piano, that lets the focus linger on John's voice. A gentle proclamation, he laments his current state whilst looking to the moment that he is allowed to "fly". Knowing the album's background offers ample evidence for personal songwriting influence, but its sincere delivery makes it easy for anyone to empathize with its message.
A Wonderful World explodes with expression from here. 'Leaving LA' comes with a rainbow of hypervisual piano production, akin to some of the more bombastic Elton John numbers. 'Always Be the King' falls somewhere between contemporaries like that "other John" with a hint of raucous Ben Folds-applied piano rock throughout its chorus. 'Let Me Dance' is more Dean Martin than any of it, with John putting out his best swinging croon, and 'The Fall of Room' has a vaudeville-style break down that invigorates. 'Pretending to Sleep' recalls the city-slicking piano-pop of Billy Joel, whereas 'Last Night' deals with some cool, acoustic jazz tones and allows John to show off his keen understanding of a vocal scale. And 'Borderline' is a memorable folk number that offers the artist plenty of means to exercise his way around a driving rhythm.
Yet, it's in the quieter moments that A Wonderful World truly shines—from the aforementioned 'Caged Bird' to the titularly-explanatory 'Me & My Piano'. The album's title track, 'Wonderful World', might see him at his very best. A subtle swing tune, John paints a nostalgic picture betwixt hope and a heaping dash of irony, recalling the likes of John Hurwitz and Randy Newman alike. When the album dilutes to focus solely on the man and his primary instrument, it flourishes in panoramic beauty, showcasing an imperfect, passionate human heart for all who care to observe it.
Words by: Jonathan Frahm