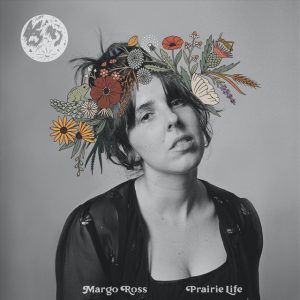 Sometimes you come across an artist that enchants and intrigues. Indie songwriter Margo Ross falls into this category. Her music has a crafted home-spun feel and intimacy. Like a hand-made clay pot with the thumb prints still visible, she has made a thing of human beauty and joy. Emotion and mood are hard things to capture on record with credible fidelity. She manages this tricky feat with aplomb.
'God I Wish That We Could Still Be Friends' has some great sardonic vocal hooks and loads of heart. In it, Ross explores the grey area between friendship and the heartbreak of a new romance with a lovely tension that builds with swirling string lines and Ross's impeccable croon. The downbeat vibe reminds me a little of Larna del Rey and Chris Isaak with its beautiful, plaintive, yearning vocal.
I'm loving the galloping vibe of 'Prairie Life' which achieves the rare trick of being upbeat and melancholy at the same time. The anthemic and wide-open production has a vintage western feel helped along by some lovely country style fiddling. Yee ha! It's a homage to the landscape of Margo's youth and a rumination on her sister and her vast knowledge of the natural world.
'The Flame' is angular and stutters rhythmically as the disjointed broken lyric speaks of lost love and broken promises. There's a fragility and vulnerability in the vocals that is both charming and disarming in its directness. The strings stab at the song like the rite of spring.
Growing up in rural Iowa, Margo took inspiration from the vast midwestern landscapes as she began writing songs on her rooftop, playing a banjo that her sister bought her as a present with nature as her backing band. Now living in Brooklyn, her debut album Prairie Life originates in this pastoral scene and expands to include the complications that come with growing up in the country and moving to the city. 
Margo Ross worked on the album in the studio with Rubblebucket's Ian Hersey who expertly blended the worlds of folk, indie-pop and Americana, to capture Margo Ross's inner world. Whether trying to make sense of complex relationships or focusing on the nostalgic background of home life, Ross shows she has a gift for honest remarkably frank songwriting. 
Prairie Lives is by turns fascinating, entertaining and charming. Like a musical version of the world Annie Proulx conjures up in her novels, this is a unique slice of modern Americana with a quirky world view.