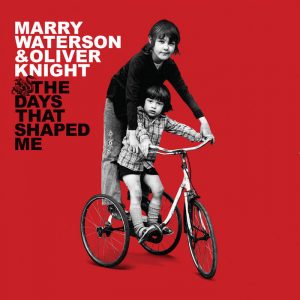 Dive in deep to the wonderful, traditional and ever surprising sound world of Marry Waterson and Oliver Knight's The Days That Shaped Me and you won't be disappointed.
Here we have English folk-smithery and deep-rooted tradition at its idiosyncratic and charming best. Poignant elegant prosody abounds, revealing bittersweet narrative of lives, lived, loved, lost and cherished.
This 10th anniversary reissue of The Days That Shaped Me is a collection of truly remarkable songs and some new and previously unreleased material. At the heart of the music is the rich interplay between Marry Waterson's voice, lyrics, music and meaning.
It is a modern classic that has really stood the test of time.
This album has heart and real depth of emotional veracity. When we consider the circumstances lying behind the record you can really understand why. The siblings chose to record together for the first time in memory of their late mother Lal Waterson of the renowned Waterson folk family.
When first released the album was praised for its touching and intimate lyrics, the diverse influences behind Knight's guitar work as well as the obvious and honest presence of loss. The Days That Shaped Me is full of beautiful, evocative, mysterious songs that include collaborations with Kathryn Williams, who provides harmony on the stripped back 'Father Us' and the delightful and revealing 'Secret Smile', both of which she co-wrote with James Yorkston.
'Middlewood', an instrumental with Andy Cutting, offers a nod to Europe, while Emily Scott of chamber pop quartet Modern Studies contributes to 'Fine Horseman' – replete with velvety strings. 'Purple Polka Dot Linen', co-written by Scott, is reminiscent of vintage Joni Mitchell at her perceptive, melancholy best.
The Days That Shaped Me is a masterclass in how to do English traditional folk song in a creative, modern, intelligent way. With this reissue we are offered the opportunity to revisit a heartfelt collaboration rich in sentiment and emotional breadth with a timeless quality.