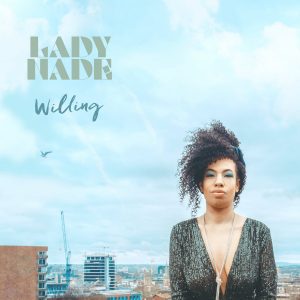 Let's talk about Lady Nade, UK Americana Award nominee, showcased at the Folk Alliance International and the International Live Music Conference, performing at many online festivals in the UK and USA – including Thriving Roots and Folk on Foot. Recently she was selected to be one of 12 artists to represent England at Global Music Match. One could say things are looking up for her whilst the world is turned upside down.
The singer-songwriter third album Willing sees her continuing to champion the positive connection between music, well-being and the importance of equality and diversity within the arts – a world view I whole-heartedly endorse.
Through the public facing online events of the remarkable English Folk Expo online programme, I've seen Lady Nade speak eloquently about race, diversity, and feminism within the folk industry, and she is sharp, erudite and on the money: a young woman alive to her situation and the possibility and travails of her chosen field. 
Which brings us nicely to the 11 songs that make up Willing, a memorable album in so many ways. Recorded during the 'forced stillness' of lockdown, they are a direct outpouring of words and ideas rich in narrative. Stories about love and friendship self and loneliness, themes that many people will be able to relate to during these strange days.
'Ain't One Thing' is a powerful declaration of love and kindness to self, an anthem for young women everywhere dealing with a visceral theme intelligently in a world that rewards social influencers and their plastic looks.
'Rock Bottom' deals with suicide and self-abuse. I love the country rock vibe of the love songs 'You're My Number One' with its hints of Amy Montgomery, and 'Wildfire' with its vintage Roy Harper-esque picked guitar figures and elaborate vocal harmonies, delays and reverbs. 
The up-beat stripped back  'Call Yourself A Friend' deals with the complexities of modern dating and the vagaries of friendship and love, I think we've all been there. There are hints of Lauren Housley here in a delightfully raw edgy way.
'Peace and Calm' is an autobiographical ode to the special relationship between grandads and their grandchildren: 'When the chips are down, he saves me' sticks out as a line revealing so much more than words can say.
My personal favourite song is 'Many Ways to Sink This Ship'. It's a blast, a really good fun tune with a twisted lyric and some great vocals and changes of pace.
Written, engineered and co-produced working in isolation by Lady Nade and her band this album is really worth a listen, Willing is visceral, emotive, intelligent and sometimes jarring. It makes the perfect backdrop for the world we find ourselves in. Where cognitive dissonance, introspection, a desire for connection and some kind of new better rather than bitter normal is our dream. This record is a two-fingered salute from the woke generation to a world determined for us to live a life scared of our own shadows.