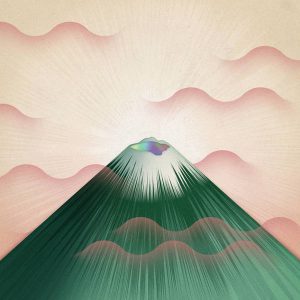 Inspired by the ancient Mount Paektu, Gruff Rhys' latest solo album finds him exploring fertile territory while remaining both familiar and fresh.
The Super Furries' frontman has ploughed a rich and varied seam under his own steam for 15 years. Seeking New Gods, recorded pre-pandemic as his band toured the US, follows his Welsh-language LP Pang but shares more in common with 2013's travelogue American Interior and its successor Babelsburg.
With Seeking New Gods, there's a musical coherence and invention brewed via gig after gig by Rhys' tight touring band, including concrete-solid ex-Flaming Lips drummer Kliph Scurlock. Structurally sound yet curiously playful, its nine tracks stretch to 42 mins, sewn together with the constant swirl of a Solina synth.
Rhys' visionary songwriting and sharp ear for melody, informed by a concoction of West Coast rock, German electronica and cosmic soul, emerge brightly from the shadows of his SFA canon. Plotting a perilous mental and geological path through these apocalyptic times, images of lava, rubble and explosion loom, Rhys singing of "hanging on by your fingernails" in 'Can't Carry On' and "walking a tightrope in slippery flip flops" on the glam-stomping 'Hiking In Lighting'.
'Loan Your Loneliness' is as near to unvarnished pop perfection as you'll hear this summer, Scurlock's motorik-meets-Status Quo rhythms bouncing to Stephen Black's single-note bass lines and Osian Gwynedd's chunky piano, leading to a searing Rhys guitar outro.
But perhaps the coup de grace is the album's wonderful misty-eyed closer 'Distant Snowy Peaks', an hypnotic ballad which could just as easily soundtrack sci-fi galaxies as the frozen fields it depicts. Its fluttering effects build over Rhys' keening vocals, scaling the pinnacle of his most evocative sonic adventure so far.
@petebate