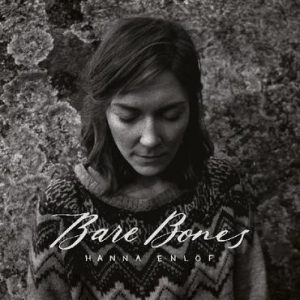 Some things contain a magic so special that your breath is literally taken away by the vision, scope and artistry present in the work; be it a painting, a poem, a meal or as in this album a collection of beautifully crafted and performed songs. Hannah Enlöf shares perspectives on life lived in the 21st century in all its complexity, dealing with themes like death and bereavement, impending ecological disaster, the rise of extreme right-wing politics, love, loss, infidelity, human ennui, hope, fear and the nature of time.
This really is a stand-out album and that is down to the artistry within the songwriting, the performance and the arrangements. Hannah writes with her partner, lyricist Craig Stanton Thomas, and weaves a delightful musical spell in which we go far beyond the 'bare bones' of guitar, occasional piano and voice to a lushly arranged sonic place. Every song is a world in itself, for this, we have to look to and thank Erik Berglund who has the ability to combine the organic and electronic into the unique tapestry of sound heard in BareBones. The original idea for the record was to make a beautifully simple album highlighting Hanna's voice and acoustic guitar playing, but Erik's production skills make this so much more. It has the potential to reach a far larger audience, with rich pickings for the sonic magpie and lover of a great song. 
We are in the presence of three very gifted individuals. The song is the thing here, the jewel in the crown and these songs are superb. For me this really is ticking all the boxes and the remarkable thing is you can tell within seconds of hitting the play button that you are listening to a great record whichever of the thirteen tracks you were to start with.
Enlöf started her musical career as half of Swedish duo Good Harvest, who got their breakthrough with a viral rendition of Joni Mitchell's 'Woodstock' in 2016. In the following years she has made numerous television appearances, played on some of Scandinavia's largest stages and released several critically acclaimed albums. BareBones is Enlöf's first solo album, and a finely crafted gift to the world with it.
Opening an album with a song about bereavement is a bold move. 'Going Down', with its pensive strings, ostinato plucked patterns, and simple, direct yet dark lyrics, is a song of bereavement, departure and loss elegant in its execution, moving without being over dramatic, a complex rich starter.
'Three Degrees' is a big song dealing with environmental issues, with its huge chorus strangely reminiscent of Adele blasting out a Bond theme song, but in a good way. Stronger and less proselytising is 'Burning in Paradise', which takes for its theme the devastating wildfires in Paradise, California in the summer of 2018. The words resonate with layered meaning.
'Tick Tick Tock' is one of my favourite songs, it's all about time, the nature of rush-hour culture, chasing after goals and for what purpose? In this song whimsy and dreaminess abound, Enlöf's voice and the beautiful string arrangement dancing prettily around the simple country-tinged folk melody, a modern lullaby for a world in a rush but held on pause by the pandemic. The sleeve notes tell us Hanna sang an early version of this song for her friend and fellow musician Anna Ihlis, who immediately loved the song and insisted on singing it with Hanna. By the time the song was fully recorded, Anna's whole family had gotten involved. Her father arranged and played the strings and her husband, Are, played the bassoon on this lovely mix of Americana and classical orchestration.
'Two loves' is a beautiful, stripped-back song about how two become three but then become one, a sad tale we can all relate to in some way. 'Booted Feet' uses a lovely piano to tackle the far darker topic of the rise of neo-Nazism on the streets of modern Sweden – touching nerves across borders.
This is a pandora's box full of earthly delights, musical artistry and human insights. BareBones is a classic, an album more than capable of crossing over to the mainstream. A perfect 10.