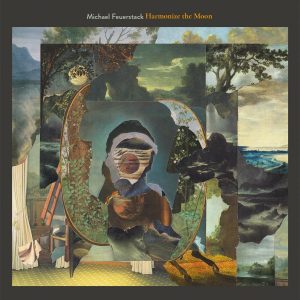 It wasn't supposed to be this way. In the spring of last year, Michael Feuerstack was preparing to enter the studio to make an upbeat and fulsome record but COVID-19 – as it did for us all – changed his plans. Collecting pieces and fragments of songs written over the previous couple of years, Feuerstack instead arranged and recorded an entirely different record alone in his Montreal apartment.
The record is called Harmonize the Moon and in its slow and pensive way feels like a reflection of last year's isolation. Armed with just his melancholic acoustic guitar, Feuerstack used the newfound free time wisely: these songs consider our relation to time and its illusory nature and they accordingly unravel naturally and unforced, Feuerstack revelling in every breath and every moment.
The new simplicity of the instrumentation really allows his words to be felt. It starts with some profound imagery in the opening line: "I used to be a singer / Bumping around in the astral plane / Picking up astro trash to polish it up again," he sings, A Portrait Of An Artist Rediscovering Himself In An Unprecedented Pandemic. Feuerstack's voice has always been mellow yet warm. He's serious and sincere throughout, the lyrics delivered with meaning. His guitar is a great companion throughout: it twinkles on 'Call of the Tired', its rhythm thicker and more rousing on 'Time to Burn'. 
Many of the lyrics are fragmented and elusive, thoughts and ideas drifting through songs like 'Bathed in Light' and 'Valley'. Just when some sense of greater meaning presents itself, Feuerstack sounds ponderous and unsure; this conflict is apt considering most of us were feeling such uncertainty last year. Time and our relationship with it is always not far out of Feuerstack's mind though. "Trust the curvature of memories in time," he says on 'You Can Relax', a majestically earnest piece, almost performed like a lullaby. On one song he even places us in that most patient (or impatient) of places, the waiting room. The encapsulating closing track 'Why Don't You Stay?' is a haunting reminder of those languorous and strange days of 2020: "Since you've been away / I spend my time / Wasting away / In the very best way / In a slow dial of days and nights."
Harmonize the Moon: what a beautiful title. It's tempting to decide that it's Feuerstack's paean to a post-pandemic future where we all embrace nature and its need to be nurtured finally, not to nurture; listen to the moon and the tides, don't wait until it's too late. Above all though, this album is a retreat to lockdown state, a haunting return to that fractured time. It almost provokes jealousy, or at least envy: why wasn't I able to produce such beautiful creativity during all those empty weeks and months? It's all overridden by a gratefulness, though, for Feuerstack's intimate and contemplative art.
A final note on Feuerstack's reputation: this is now his 14th album, whether under his own name or the Snailhouse moniker. In terms of production and output, he closely mirrors Phil Elverum of Mount Eerie and The Microphones; yet though Feuerstack undoubtedly matches him in terms of longevity and consistency, a gap remains between their critical reputations. It's not that he needs it, but one hopes that Feuerstack doesn't stay as one of the most underrated songwriters of the past 25 years for much longer.